New Fiber Laser, Portable Electric Press Brake
October 1, 2016
Cincinnati Inc.
Booth C31102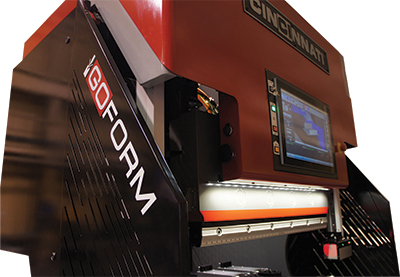 Cincinnati uses the FABTECH stage to debut its CL-960 fiber laser, Maxform high-speed hydraulic press brake and the recently introduced Goform electric press brake. The CL-960 laser boasts a 6000-W laser, and provides air-assist cutting technology to further reduce production costs.
The Goform 40-ton portable electric press brake offers six-axis backgauging. It  s system is equipped with the same HMI control standard on other CI press-brake models.
Also on display: A replica of the Orion spacecraft showcasing CI's BAAM (Big Area Additive Manufacturing) 3D-printing capabilities.
www.e-ci.com
See also: Cincinnati Inc.
Technologies: Bending, Cutting, Fabrication