New Fiber-Laser Cutting Machine Features Large Work Envelope, Compact Footprint
August 1, 2018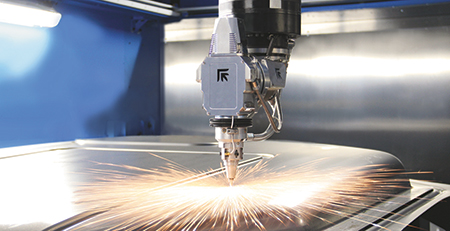 Prima Power has launched its Next 2141 3D fiber-laser-cutting machine, designed for stamped-metal-parts manufacturers in a variety of industrial sectors. The machine, according to Prima Power officials, will provide users with flexibility in processes, part sizes, and configurations, combined with state-of the-art performance, quality and accuracy.
Laser Next 2141 represents the latest evolution of the company's Laser Next family. All features of the Laser Next 1530 and 2130 systems, highly specialized for the processing of components for the automotive industry, are made available in this machine. It comes equipped with either a 3- or 4-kW Prima Power fiber laser, featuring improved protection against back-reflections and a patented highly-reactive electronic shutter. The machine also features solutions for digital manufacturing and cloud-based communication.
The machine's working volume—4140 by 2100 by 1020 mm, reportedly the largest in the market and combined with a compact footprint—offers technology that allows it to process 3D and 2D parts, and to switch easily from cutting to welding applications.
The linear motors on the main axes, the direct drive on the focusing head and advanced control systems provide high dynamics. It offers a single-axis speed of 120 m/min. and trajectory speed of 208 m/min., combined with high accuracy.
Laser Next 2141 is available in different configurations to suit any application and production layout.
Prima Power: www.primapower.com
See also: Prima Power North America, Inc.
Technologies: Cutting