New 10-kW Option for BLM Group Fiber Laser Cutters
May 26, 2021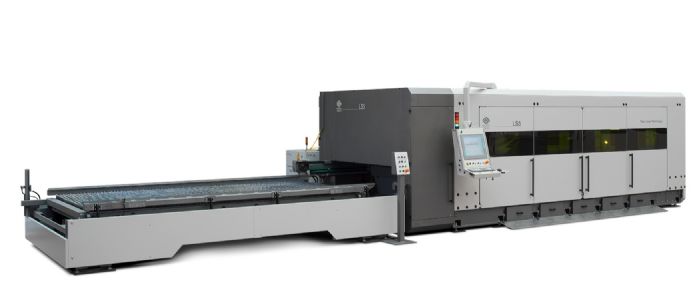 BLM Group USA has added more processing power to its LS5 and LC5 flat-sheet laser cutting machines via the new option of a 10-kW fiber laser source. These machines can cut steel, stainless steel, iron, copper, brass and aluminum sheets in thicknesses from 0.039 to 1.37 in., or even double sheets, depending upon the material. Users can specify the power level, from 2 to 10 kW, best suited for their needs. With simultaneous axis speed to 196 m/min. and swift acceleration paired with a rigid mechanical structure, these systems deliver excellent cutting performance and accuracy, according to company officials.
The LS5 (pictured) and LC5 offer bed sizes of 10 by 5 ft., 13 by 6.5 ft. and 20 by 6.5 ft.—all equipped with dual shelves and automatic loading/unloading and changeover. Depending upon floor space and production flow requirements, users can choose either a longitudinal or transversal configuration.
The machines' ergonomic designs enable convenient access to the production area with large front-door openings. And, operator panels can be swiveled and moved along the front sides of the machines for optimal viewing of the cutting process.
The LC5 laser cutting system also can accommodate a tube-processing module with the sheet and tube functioning autonomously, just sharing the cutting head. The tube-processing module has its own operator panel that controls the entire system during tube processing. The use of two panels translate to simple management from the system point of view, as well as rapid changeover from one job to the other, according to company officials.
CNC of both the LS5 and LC5 systems contain instruction manuals, maintenance tutorials, exploded drawings to identify spare parts and video tutorials.
See also: BLM Group USA
Technologies: Cutting