Trumpf Inc.: www.trumpf.com
Versatile System by LVD Strippit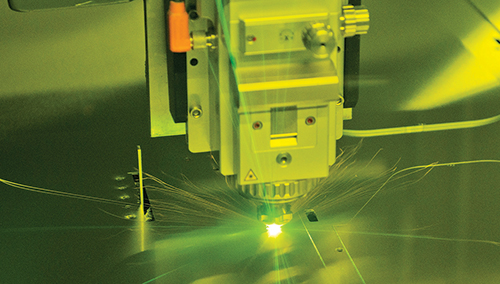 The Electra FL 3015 8-kW fiber-laser cutting machine by LVD Strippit, Akron, NY, cuts a range of metals while maintaining 2-G acceleration, resulting in precision cuts in both simple and complex configurations.
The system's cutting head with zoom focus improves piercing times, cutting speeds and cut performance in all material types and thicknesses. Also, the ability to change the focal point allows Electra to pierce 20-mm-thick material in just 2 sec. for significant productivity on fully nested sheets. This means that less heat is generated in the material, making it more efficient to cut small holes. The head also provides stable lead-in after fast piercing when cutting thicker material (greater than ¼ in.) with nitrogen, resulting in an average gain of as much as 15 percent on part-cutting times.
Other features of note: The rigidity of the mono-frame construction ensures reliable cutting performance and requires no foundation; an icon-driven 19-in. touchscreen graphical interface guides any level of use; and multiple automated load/unload system options ensure uninterrupted production flow.
LVD Strippit: www.lvdgroup.com
Integrated Intelligence by Mazak Optonics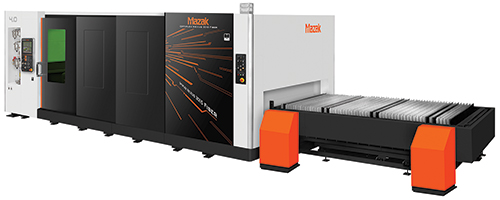 The Optifplex Nexus 3015 fiber-laser cutter by Mazak Optonics Corp., Elgin, IL, is designed to integrate intelligent setup, monitoring and cutting functions that reduce operator dependency while improving cut quality and productivity. Intelligent setup functions include beam-diameter control, focus detection, auto focus positioning, auto nozzle cleaning and changing, and auto profile calibration. Intelligent monitoring functions include pierce, burn and plasma detection. And, intelligent cutting functions include flash cut and fine power ramping, which optimizes cutting conditions so that dross on the bottom of the worksheet is prevented and quality surface finishes are produced during high-speed cutting of mild steel and thin stainless.
The system's sensor-equipped multifunction torch monitors piercing and cutting operations. The system also has a large access side door and an automated two-pallet design with helical rack-and-pinion positioning system for high throughput. The Preview 3 control with 15-in. touchscreen includes integrated tech tables. Available are 2-, 3-, 4- and 6-kW configurations. MF
Mazak Optonics Corp.: www.mazakoptonics.com
See also: LVD North America, Prima Power North America, Inc., TRUMPF Inc., Mazak Optonics Corporation, Amada North America, Inc
Technologies: Cutting, Fabrication