Laser Cutting Machine Promises Quick Setup, Simple Use
December 7, 2022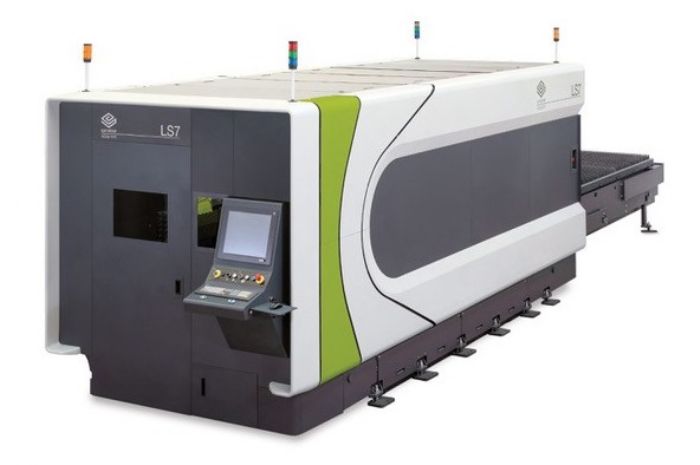 At FABTECH…BLM Group unveiled its latest lineup addition, the LS7 sheet laser cutting machine, designed as an entry-level product in the high-end system segment, according to BLM Group officials, and capable of employing laser power to 12 kW.
The machine features a conventional aluminum mobile gantry structure actuated by a rack-and-pinion system, which slides on a steel base filled with a special polymer to ensure high rigidity even with accelerations to 2 g. And, pallet change reportedly can be accomplished in only 9 sec. on the long side of the machine, with this high speed attainable via an ability to anticipate the simultaneous exchange of the two tables. Handling is fully electric, without pneumatic or hydraulic actuators, for optimum maintenance and energy usage.
The LS7 can cut steel, stainless steel, iron, copper, brass and aluminum in thicknesses from 0.20 to 1.57 in. or even double sheets, depending upon the material and selected laser power. It's available in two versions: the 3015, with a maximum sheet size of 121.5 by 62.2 in.; and the 4020, capable of handling sheet sizes to 162.5 by 79.5 in. Users can add automatic sheet loading and unloading with one or two storage towers for automated material changeovers, making the setup well-suited for unmanned operations.
Other LS7 features: plug-and-play operations that enable simplified equipment setup, and eased integration with ERP systems as well as material-handling and storage systems. The cutting process can be monitored by the windows near the operator console or by the optional cameras located inside of the cabin, with images visible on the operator console, on an additional external monitor and also remotely.