Enhanced Coil-Blanking Speed via 8-kW Laser Heads
November 1, 2018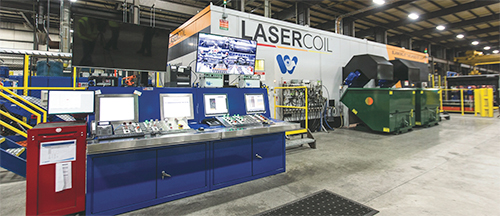 LaserCoil Technologies LLC has increased the cutting speed and power of its laser-blanking systems with the introduction of 8-kW fiber lasers featuring a proprietary Z-axis design integrated directly into the laser-blanking system. This feature allows the laser head to more rapidly adjust to height variations in the material, thus maintaining consistent stand-off.
In the past, when reaching higher cutting speeds, especially in the range of 1000-2200 mm/sec., the system's ability to adjust to variations in material height with less than perfectly flat material lagged behind the laser's potential cutting speed. This was, in part, due to this Z-axis adjustment being tied into a separate controller, functioning through a separate human-machine interface. But the new integrated Z-axis offers the ability to maintain the higher speeds with a wider range of less than perfectly flat material.
The systems can be sold with a single-laser 8-kW head or with multiple heads, which allow a shared balancing of the cutting workload to decrease processing time and improve productivity. Additionally, the LaserCoil systems offer multi-mode capability where users can choose either Feed Index Mode (stop/start) or Continuous Mode for optimizing cutting parameters for each part configuration.
By laser cutting direct from coil stock, these systems reportedly provide a rapid and flexible approach to blanking, well-suited for production environments running multiple blank profiles and mixed material types. The systems can handle coil stock to 2.1-m wide in any length, and can process aluminum, mild steel, advanced high-strength steels, and materials for surface-sensitive panels as well as structural components. With 8-kW systems, simple shapes in material thicknesses from 0.5 to 0.75 mm can be cut with speeds approaching 2.2 m/sec.
LaserCoil Technologies: www.lasercoil.com

See also: LaserCoil Technologies, LLC
Technologies: Cutting