Bystronic Assembles its First BySmart Fiber-Laser Cutting Machine in the United States
May 6, 2020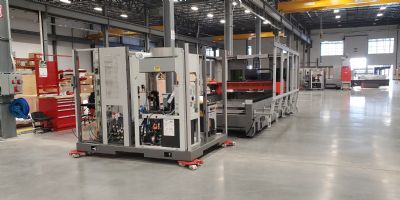 Bystronic announced that the first-ever laser-cutting machine assembled at its new 165,000-sq.-ft. facility in Hoffman Estates, IL, has rolled off the line. The machine, a BySmart Fiber 3015, available with an 8- or 10-kW fiber laser, can be shipped virtually fully assembled to most North American locations. The firm also plans to begin, later in 2020, assembling the BySmart Fiber 4020 at its U.S. facility.
Bystronic has created a "lean flow" assembly area, officials note, where the machine frame starts at one end of the line and assembly occurs in stages, with the finished machine exiting at the end of the line. Components and subassemblies, primarily locally sourced, arrive at the production line just in time. Moreover, many of these vendors are current Bystronic customers using Bystronic machinery to produce cutting-machine components.
The newly built Hoffman Estates facility includes a Customer Experience Center and the headquarters for the Americas market region. It will serve as the hub for Bystronic U.S. business operations including sales, service, training, spare parts, and the refurbishing of used machinery. A grand opening for the new Experience Center and headquarters for the Americas is scheduled for September 16-17, 2020.
See also: Bystronic Inc.
Technologies: Cutting