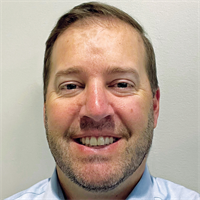 Brian Gibson
Autonomous Features and Advancements in Laser Cutting
August 30, 2022
1. Can you discuss some of the advancements in autonomous features developed for laser-beam cutting?
Recent enhancements to laser cutting machines include auto-focusing cutting heads that feature automatic nozzle changing and centering, and video monitoring—using a camera mounted inside the enclosure—not only during cutting but also after cutting. The camera projects an image of the remnant onto the table, allowing the operator to nest individual parts, as needed, directly onto the remnant. This can prove useful, say, if press brake operators turn one or more cut blanks into scrap and the laser operator needs to cut a few extra parts.
High-end laser cutting machines also can be outfitted with optics and cameras to inspect nozzle condition, and to check the condition of the lens and protective window. And, metal formers can equip the machines with crash-recovery and avoidance mechanisms, along with sensors for cut and pierce monitoring.
2. What benefits do these features offer?
Running LBC machines with these features allows metal formers to no longer require an operator to perform simple maintenance tasks such as focusing or nozzle centering. Issues with part tip-up also are automatically addressed using crash-recovery technology that allows the user, in the event of a crash, to program the machine to either reinitiate cutting from the point of the crash; move to the next part feature; or to just skip that part in the nest altogether and cut the next part. This proves particularly useful in shops where an operator tends multiple machines or performs additional tasks away from the machine and may not immediately notice a crash and shutdown.
3. Where can these features benefit the end user?
The benefits of these advancements are simple: They keep the machines running optimally without the need for operator intervention and enable the machine to continue cutting even if a problem arises, even when running lights out and unattended.
With automated nozzle inspection, for example, prior to starting the cutting sequence the machine moves the nozzle to a visual inspection station to check if the hole is round and look for any scuffs, scratches or gouges. If it sees any out-of-tolerance flaws it will change the nozzle out.