Advanced Fiber Laser, Punch Press
October 1, 2018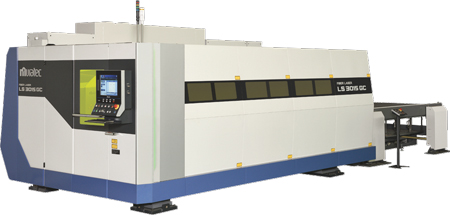 Murata Machinery USA
Booth B9167
Murata Machinery USA will showcase some of its newest and advanced machines. The recently released Muratec LS3015GC fiber laser (shown) has a compact, high-rigidity frame, and features a reduced footprint on the shop floor while preserving stability for edge quality. To add to its affordability, this machine's low power consumption reduces operating costs and maintenance time as compared to CO2 lasers. Engineered with an upgraded drive and integrated flying-optics system, it can cut through ferrous and nonferrous metals including steel, stainless steel, aluminum, brass and bronze.
One of Muratec's highly rated, 22-ton, spring-style punch presses, the M2044TS uses a servo-electric punch drive system, which incorporates ram-drive design for reliable processing. Its large turret provides more stations for greater flexibility and increased productivity, and its smaller table is sized to accommodate limited floor space.
Both machines come equipped with Murata Machinery's Intelligent Control Interface, which enhances machine production time by minimizing required setup time.
Technologies: CNC Punching, Cutting