10-kW Fiber Laser Cutting Machine
September 18, 2019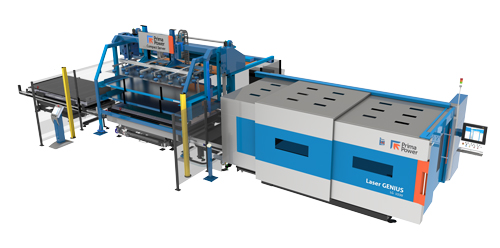 Prima Power North America
Booth A2941
Prima Power North America shows off the Laser Genius fiber laser cutting machine with 10-kW laser, which promises high cut quality on thicker materials. This machine benefits from improved integration of all machine components, and the innovative use of materials such as the carbon-fiber carriage and synthetic-granite frame, according to company officials. The high-dynamic linear motor reportedly helps increase productivity by as much as 20 percent as compared to conventional transmission systems.
Effective CNC management of the linear drive results in accurate and repeatable cutting and positioning of the laser head. The technological core of Laser Genius, the laser head, features adaptive optics for automatic management of focal position and diameter and for rapid, reactive and accurate stand-off measurement.
To best meet various production needs, the machine can be integrated with five suites of options: Smart Cut, which allows a cycle time reduction of as much as 30 percent during high-pressure cutting or on material thicknesses to 6 mm; Max Cut, which enables cycle-time reduction to 40 percent for oxygen-assisted processes and for materials from 6 to 25 mm thick; Night Cut, for complete control during unattended operations; and Control Cut, which allows the process to automatically adapt to the machine configuration and the status of the devices.
The Laser Genius can be equipped with a range of automation modules for loading, unloading, storage, sorting and stacking.

See also: Prima Power North America, Inc.
Technologies: Cutting, Pressroom Automation