Level Round Parts in One Pass
December 1, 2010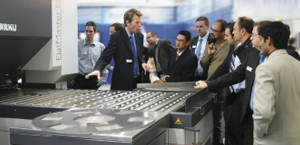 German manufacturer Arku, with U.S. headquarters in Cincinnati, OH, introduces the FlatMaster 88 to its line of hydraulic parts levelers. Unveiled at EuroBlech 2010 in October, the precision leveler is particularly well suited for leveling of round parts. Using previous leveler models, axially symmetric parts typically must be leveled twice, with intermediate 90-deg. rotation. The FlatMaster 88 is equipped with a turntable for automatic part rotation and can therefore level in both directions. Productivity can increase by more than 50 percent, while manual material handling is reduced significantly. Material thickness capacity: 23 mm.
Arku Coil Systems: 513/985 0500; www.us.arku.com
See also: ARKU, Inc.
Technologies: Coil and Sheet Handling