Heavy-Gauge Straightener for Stamping Thick Vehicle Components
February 20, 2020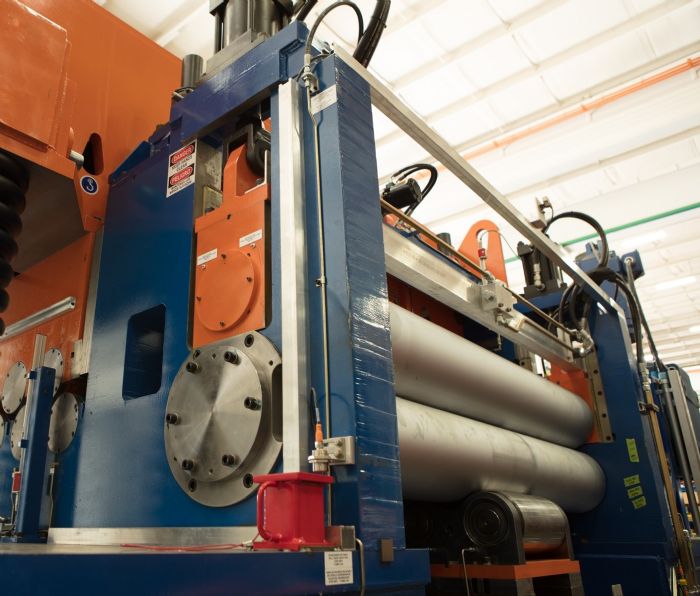 Automatic Feed Company (AFCO), Napoleon, OH, introduces a new heavy-gauge straighteners designed for processing steel to ½-in. thick, and beyond. The robust construction and capacity of the machine makes suits it for manufacturing components for truck and automotive frames, wheels and other heavy vehicle assemblies.
With a bridge load of 1.2 million lb., the straighteners can process coiled-steel coils to 78 in. wide at speeds up to 150 ft./min. They feature nine work rolls—four upper and five lower, 6.75-in. dia. for precision material flattening. All rolls are driven through a common gearbox with multiple output shafts. This design feature helps to prevent material slippage and related material-quality problems.
A kicker roll, located after the work rolls, assists with removing upturn from reverse-wrapped coils. The kicker roll proves beneficial when processing these products because upturn tends to be more prevalent in heavy-gauge materials. The addition of kicker rolls can ease coil threading.Both the entry and exit sides of the straightener feature an independent pinch-roll unit, individually driven by a 75-hp AC servo motor. The 12-in.-dia. pinch rolls open and close with near- and far-side hydraulically actuated cylinders. These cylinders have proportional pressure-regulating valves, programmable as part of the part recipe. The entry and exit pinch rolls are separately driven and electronically speed-matched with the straightener work rolls.
See also: Automatic Feed Company
Technologies: Coil and Sheet Handling