Industrial Fabricators Installs Flexible Cut-To-Length Line
February 1, 2018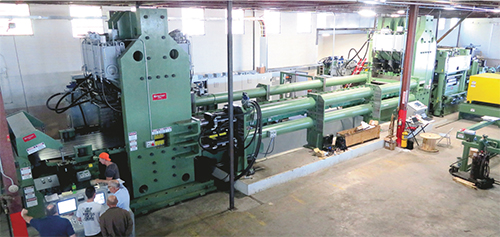 Industrial Fabricators, Inc., Gastonia, NC, a supplier of carbon steel, aluminum and stainless-steel fabrications, and also a supplier of flat-rolled processing and metal-distribution services has installed a 72 by ½-in. Braner/Loopco stretch leveling cut-to-length line in its 700,000-sq.-ft. Gastonia facility. The line has the ability to convert carbon steel, aluminum and stainless coil, in gauges from 0.060 through 0.500 in. with mechanical properties ranging to 125,000 psi, into high-quality memory-free sheet and plate products. Coils to 84 in. OD are initially worked by a heavy flattener that corrects coil-set and cross-bow conditions.
The strip then is processed through a hydraulic cassette leveler fitted with a multi-motor TorqueMaster power train that produces extra-deep work-roll plunge to correct strip edge-wave and center-buckle conditions. A precision servo feed meters the strip into a high-performance variable-rake CTL shear that cuts the strip to a preprogrammed length. The cut sheet/plate then is stacked, weighed and run-out for further packaging. Sheets/plates that require complete elimination of springback memory conditions are elongated by a 40-ft.-bed stretch leveler that grips and stretches the strip beyond its elastic limit with no surface marking. An integral real-time elongation-tensiometer system automatically generates precise strip-stretch elongation to achieve memory-free conditions throughout the entire gauge and mechanical-property range.
Braner USA: www.braner.com
See also: Braner USA, Inc.
Technologies: Coil and Sheet Handling, Fabrication