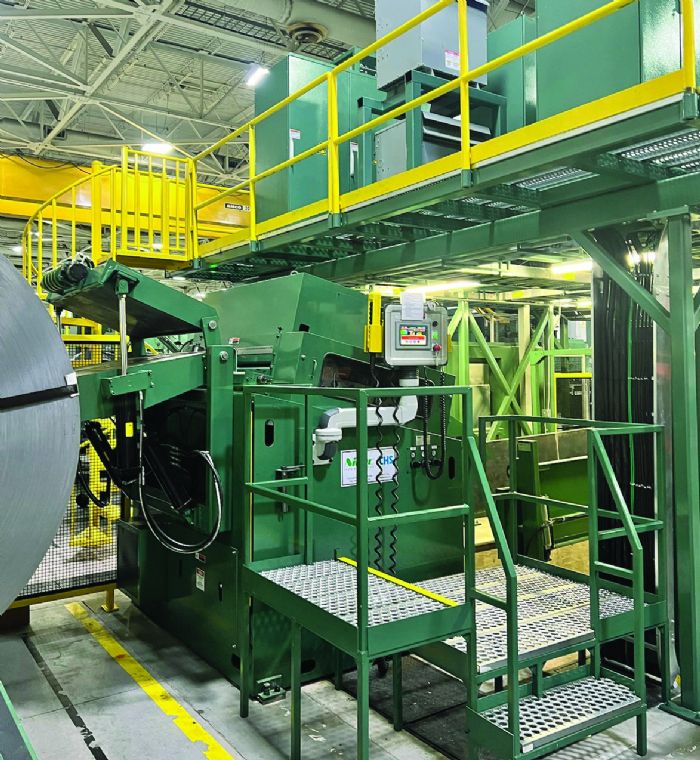 As far as the LEA transfer system, it features vertical die access with the transfers lifting in the air next to the press ram to allow for die changeovers, an auto-change transfer bar/tooling system, pendant control, back-side enabling, an auto-lubrication system, remote diagnostic capabilities and servo-press integration features to get the most out of the automation with the servo press capabilities. The system provides a maximum pitch (X axis) and clamp (Y axis) of 36 in., and 24-in. max. lift (Z axis), and speed tops out at 27 strokes/min. (based on 25-in. pitch, 9-in. clamp and 3-in. lift). Maximum part/tooling weight: 300 lb.
Welding Engineer Joins the Team
"We have 240 employees working here over two shifts," says A.J. Rose sales engineer Torey Sweeney. "We just hired our first welding engineer earlier this year, as we've been quoting a lot of stamping work that requires arc and resistance welding of assemblies, much of which we've been outsourcing. Now we can bring that work back inhouse."
Why the upsized servo press? "Along with our goal to become more vertically integrated and perform more secondary value-added work," says Sweeney, we also want to bring some outsourced stamping work back inhouse, including the higher-tonnage jobs and large parts requiring the bigger press bed. That includes EV work."
Since bringing the press online in September 2022 the firm has brought two previously outsourced jobs back inhouse, big runners (powertrain components with annual volumes approaching 350,000), "and they're relatively expensive parts that require secondary machining," Sweeney notes. "After stamping, they are spun to put a groove around the OD, then that groove is machined to clean it up and bring it within tolerance. Previously we were buying the stampings and bringing them inhouse for secondary spinning and machining; now we can do it all inhouse and avoid the extra time and transportation costs associated with outsourcing.
"In addition," Sweeney continues, "we've moved two other existing jobs over to the new press to open up capacity and take some work load off of our other presses."
Among the new EV parts recently won and soon to go on the new press: large "skateboard" components 45 in. wide that will consume nearly the entire press bed and be stamped in seven-station transfer dies from 189-in.-wide aluminum strip. The firm also stamps control-module and radio-frequency brackets for EVs, and mounting plates for regenerative braking applications, among other EV parts.
Underground Scrap, Press Monitoring, etc.
During our press-shop tour we learned how the facility was able to tie the press to its underground scrap-conveying system, monitored by video cameras to alert production managers to any issues. And, to enable quick changeovers, press row features track embedded in the floor on which a 45,000-lb.-capacity die cart (from Green Valley) rides to stage dies at each press along the way.
"This facility was designed and built from lessons learned from the 1922-vintage Cleveland stamping plant," Sweeney explains. "Everything here is based on efficient stamping."
That thoughtful process includes the use of two toolrooms—one focused on building new dies (the firm builds an average of 10 to 15 new tools per yr.) and another smaller toolroom adjacent to the pressroom for maintaining dies.
And, lastly, among the new initiatives at the company is integration of press-monitoring software to marry to the firm's Plex ERP software, installed in 2019.
"To track overall equipment effectiveness, we're adding the Mach2 software platform from Plex," explains Sweeney. Mach2 is a software solution developed by Kors Engineering, a company acquired by Plex late in 2021. It's used to collect machine data for real-time reporting and decision-making by providing production dashboards along with supporting process automation for setups, scrap recording, production recording and more. MF
See also: Nidec Press & Automation, Aida-America Corp., Lincoln Electric Automation, Plex, A Rockwell Automation Company, Kors Engineering
Technologies: Coil and Sheet Handling, Pressroom Automation, Stamping Presses