Upgraded Cradle-Straightener-Feeder
November 1, 2010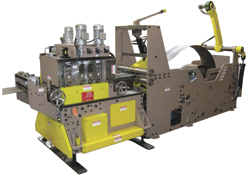 Coe Press Equipment, Sterling Heights, MI, introduces its latest compact cradle-straightener-feeders featuring an improved material-threading process and a hydraulic pilot-release mechanism to optimize press-feeding accuracy. The units prove ideal for medium- to heavy-gauge applications (0.040 to 0.375 in.) in space-constrained areas. They uncoil material by holding the coil's OD while accurately indexing the material to the press with a combination piloting straightener-feeder.
Where traditional units unwind the coil from the bottom, Coe's design unwinds from the top, producing a small slack loop for improved performance. The unit's hydraulic pilot release effectively releases the feeding and straightening rolls, compared to traditional models that do not effectively raise the straightening rolls. Models are available for processing coils to 60 in. wide, 63-in. OD, and weighing as much as 20,000 lb.
Standard features include two driven coil-support rollers, two exit pinch rolls (3.93-in. dia.) and seven straightening rolls (3.93-in. dia.), all synchronously driven. Also standard is hydraulic opening/closing of the alligator-style straightening head for material threading and roll cleaning, a holddown arm with a motorized end wheel, and a snubber/peeler for hands-free material threading.
Coe Press Equipment: 586/979-4400; www.cpec.com
See also: Coe Press Equipment Corporation
Technologies: Coil and Sheet Handling