Blanks Directly into Box Skids
A key feature of the new line is its ability to stack blanks directly into box skids, according to company officials.
"With the old line we had to level a quantity of sheets on a flat skid and transfer each sheet into a box skid," explains Haire. "We worked with Red Bud to figure out how to design the shear such that it would stack the sheets directly into a box skid."
The stacking system aligns material just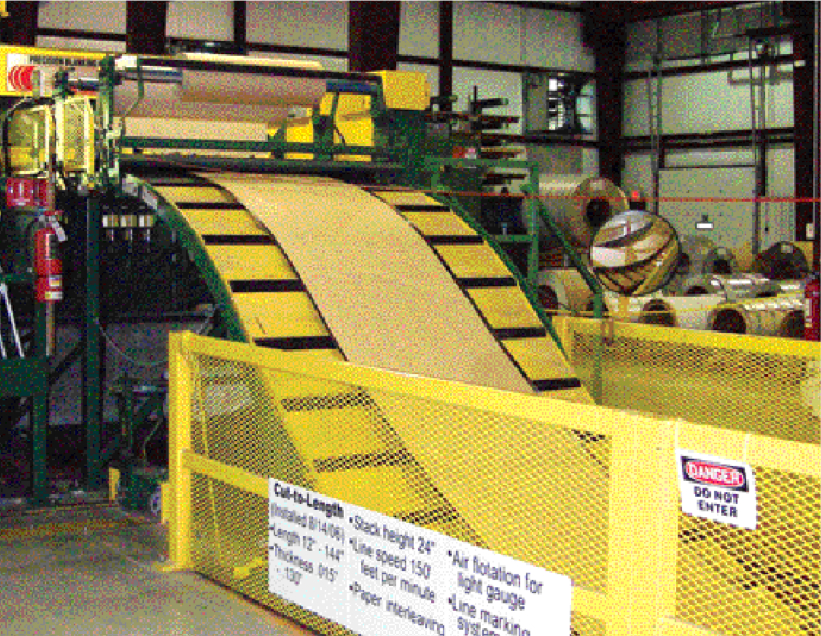 The addition of a looping pit on the line results in less stops and starts, meaning less opportunity for marks on valuable surface-critical material.
prior to shearing and then arranges blanks in a perfectly square stack in a box skid that lowers automatically as the blanks stack up.
"Not having to move the sheets again eliminates the double-step process and has allowed us to increase efficiency dramatically," Haire continues. "Blanks come off of the line and are packaged and ready to go. We are one of the first in the industry to be able to do that."
Company officials estimate annual savings of $103,000 due to the productivity gain and the fact that box skids are less expensive to purchase than flat skids with boxtops.
Another plus of direct box-skid loading: reduction in damage to high-priced surface-critical sheet that may result from excessive handling. The line also employs a dual-motor grip-feed that processes surface-critical material without leaving a mark; a looping pit also helps to eliminate marking.
"The prior line did not have a looping pit to accumulate material, so the entire line would stop during sheet cutting, creating the risk of marking material via starting and stopping," says Haire.
All of that is important, as United Performance works with high-value materials, some grades purchased by the company for as much as $50/lb. With customers expecting perfection, blemishes can result in costly scrapped product.
Lean Efforts Bring Productivity Results
Testament to efficiency gains, less than three weeks after commissioning, United Performance Metals set a production record on the new line, which produces at twice the speed of the old line. The company will soon add a scale to the line's stacker pan, removing another added step: moving blanks to a standalone scale during processing. All told, the productivity improvements have opened up capacity and allowed the company to take on more work.
The addition of the CTL line fits nicely into United Performance's ongoing lean efforts.
"This company has been very involved in lean manufacturing over the last two years," says Vogel. "We've made plenty of efforts to increase efficiency and remove the bottleneck that was our old line."
The lean drive really began with the new addition, laid out so that material enters via the receiving docks and takes an orderly, minimal route through slitting and blanking and flows toward the shipping door.
"We've had huge efficiency gains with lean manufacturing," Vogel continues. "We've eliminated waste in every area of the plant. For example, in our packing area we eliminated 42 percent of distance traveled by employees to pack orders and receive packing supplies. I think every area in the plant has been examined at least twice if not more. There is als something we can change and improve on." MF
See also: Red Bud Industries, Inc.
Technologies: Coil and Sheet Handling, Materials