Metal-Scrap Shaker Systems
September 1, 2016
When metal-stamping plants are fully operating, everything moves quickly. Sheetmetal coils feed presses at throughput rates of 100 parts/min., or more. After each punch, metal trim falls away through the die, collected as scrap for recycling or sale. But all of that production can quickly come to a halt if scrap cannot be effectively cleared away.
Frequent, unscheduled repairs and breakdowns of scrap-collection systems can disrupt production, costing as much as $1000/hr. in idle time. If a press is processing 60 parts/min., as many do, that's also 3600 parts that aren't being made for each hour that production is shut down. Shipments can be delayed, customers can become disappointed and reputations can suffer.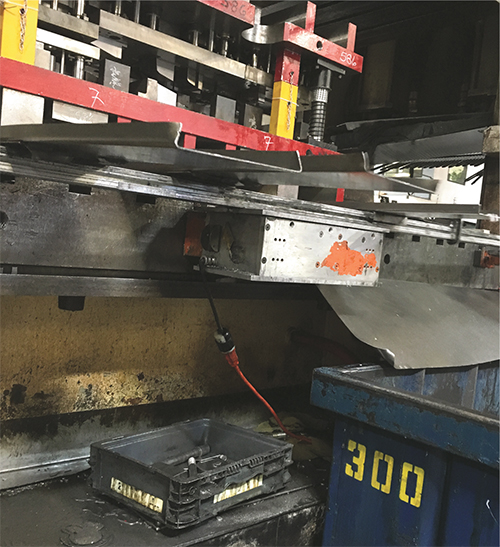 This shaker installation has an 8-ft. crossbar, but was designed and engineered for a crossbar no longer than 3 ft. It also exhibits uneven pan load—two pans on the left and one on the right. And, the crossbar lacks supports on its ends to control twisting.
A better solution: an 8-ft. rack-and-pinion setup.

This article aims to help maintenance managers and process engineers understand how to address the most common causes of failures in shaker systems, while helping them understand the advantages electric shaker systems have over pneumatically driven systems. These guidelines can help readers make the business case for updating scrap-clearing systems to the most cost-effective electric shaker models. For plants operating older conveyor-belt systems, this article also can help justify selecting electric shaker systems as replacements worthy of investment.

The Four Common Causes of Failure

Few industrial processes are as hard on equipment as metal stamping. With the continuous pounding and applications of extreme physical forces along a plant production line, reliability is critical to throughput and uptime. This extends to scrap-clearing and collection systems. They're subject to the constant drop and bounce of scrap metal, with varying weight loads as scrap is cleared, collected and disposed of.

Based on the experience of designing, engineering, installing and servicing scrap shaker systems, we have found most failures of these shaker systems have root causes in four key areas: uneven pan loads, jams, insufficient pan support and leveling, and poor pan installation.

Uneven pan loads—Basic physics suggests that uneven pan loads can stress shaker systems designed for more balanced loads. Operators should ensure that an equal number of pans are installed and evenly spaced on each side of a shaker-system's crossbar. If not, the uneven weight load of scrap metal can cause the top plate of the shaker system to twist with each movement. This twisting action can put extra stress on the system's motor and bearings, causing them to fail. For those applications that require uneven pan loads, users should opt for a rack-and-pinion system that utilizes an extrusion at the end to prevent twisting movement from the uneven loads.

Jams—Scrap or parts falling through a die can bounce and end up in various places around the press. These pieces can jam between the shaker-system's pans or drive components. Watch for jams and quickly clear them to prevent excessive wear on the motor and its linear bearings.

Insufficient support and leveling of pans—Be sure to install pans level with the press bed. Inclining or declining pans can add unwanted torque to the motor, creating excess wear. To better support pans and reduce friction from metal-on-metal contact, ultra-high-molecular-weight (UHMW) polyethylene pads or lining can be used.

Poor pan installation—Pans that are crooked, loose or banging against other objects can create additional operating stresses that can lead to premature bearing or motor failures. A solid installation can be achieved several ways.

One solution is to use quick-release pan-mount brackets. These brackets will lock down the pans securely while also allowing operators quick and flexible changes to pan placement. Lastly, the crossbars that the pans mount to should not exceed the manufacturer's maximum recommended length.