Feed Control Eschews the Standard Jerky Trapezoidal Profile
October 1, 2013
Dallas Industries
Booth S4415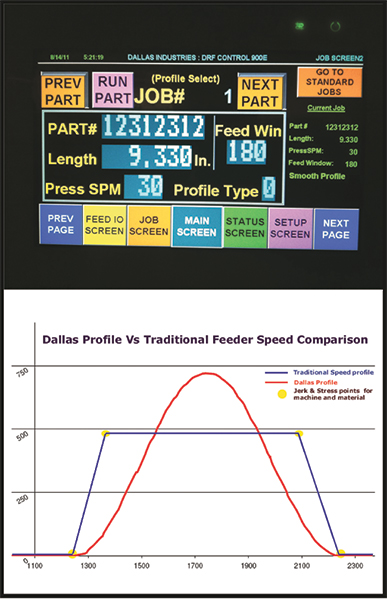 Dallas Industries, Troy, MI, will demonstrate its unique ProfileSelect feed control and explain how it minimizes electrical and mechanical stress on stamping equipment and material. Unlike standard controls, ProfileSelect uses a sinusoidal profile (cam motion), providing a smooth motion and material feed and utilizing 100 percent of the press-feed window while putting less stress on all mechanics. Standard press controls use a trapezoidal profile, which results in quick, jerky motions that can slip, putting stress on the die and material and potentially damaging the part's surface.
ProfileSelect is ideally suited for progressive-die work when the part's cosmetics are a factor or when using delicate material. The controls have an HMI touchscreen and come standard on all new Dallas press-feeding equipment or can be retrofitted to most existing line.
Also on display: a pair of state-of-the-art servo press feeds connected to a networking, monitoring and analysis system for communicating to the plant floor while monitoring and analyzing equipment efficiencies and providing reports.
www.dallasindustries.com
See also: Dallas Industries
Technologies: Coil and Sheet Handling, Pressroom Automation