Coldwater Machine Designs and Ships Flexible HVAC-Fabrication Line
May 19, 2020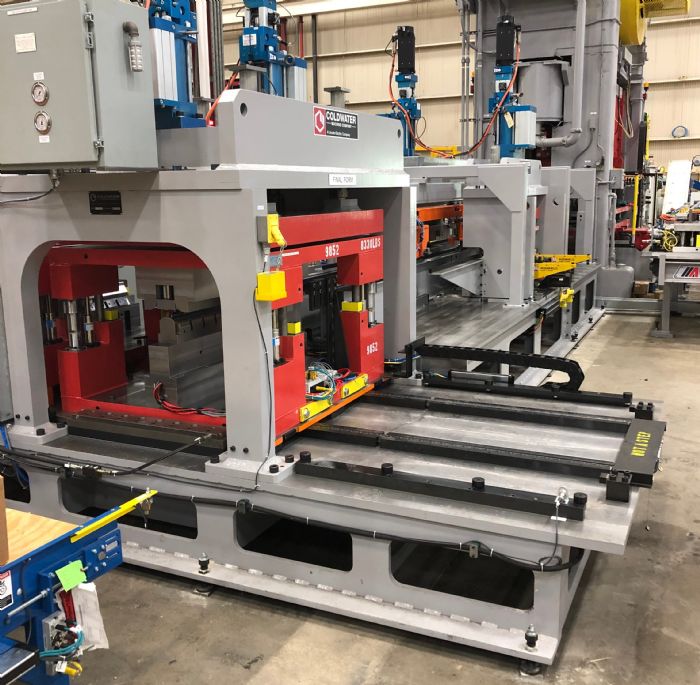 Coldwater Machine Co., Coldwater, OH, a Lincoln Electric Company, recently shipped a flexible wrapper and control-panel fabrication line to Texas for the fabrication of 14 different sizes of air-conditioning units. Based upon customer specifications, Coldwater coordinated the coil-processing equipment, mechanical press and tooling suppliers, and the supply of quick-die-change, post-mechanical press operations and the line's master controls.
The process begins with feeding of the coil stock—0.029-in. cold-rolled steel--to a 400-ton mechanical press, featuring two automated gag dies that transition to accommodate different-sized panels. The coil feeds into the press in variable increments for stamping of louvers.
After stamping, the material indexes out of the press for shearing, and then transfers to a bead and toggle station, comprised of two side-by-side 40-ton servo-hydraulic presses. Material then routes to a final form station, which also features two 40-ton hydraulic presses for bending the panels. A robot then reaches in to remove the parts and place them onto a conveyor.
See also: Lincoln Electric Automation
Technologies: Coil and Sheet Handling, Pressroom Automation, Stamping Presses