Automated Stacking
Handling the blanks coming off the new press falls to an automated stacking system developed by AP&T, designed to manage blanks as large as 70-in. square from material 0.02 to 0.125 in. thick and with maximum blank weight of 33 lb. As blanks exit the press onto a belt conveyor, they are picked up by an overhead magnetic conveyor and moved to preprogrammed locations, then dropped into a set of moveable arms equipped with crowding cones to form nice, neat stacks.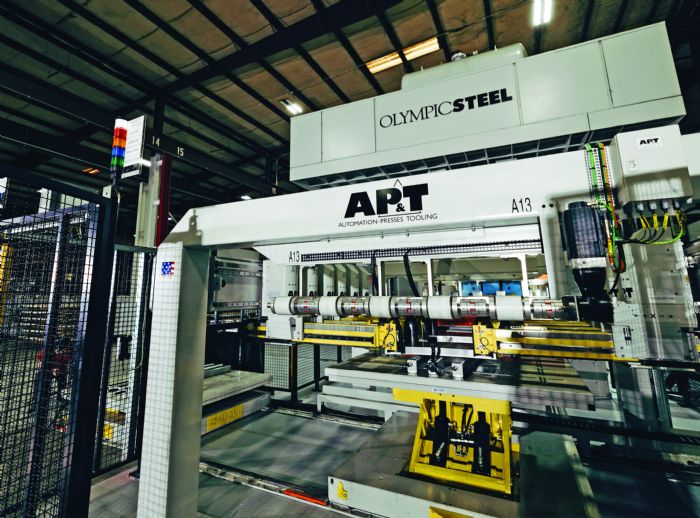 "Depending on the size and weight of the blanks, we can stack as many as two stacks at a time on the same hydraulic lift table," shares process engineer Ryan Hall. "The system control switches the magnet off at the programmed location to drop the blanks in between a set of crowding cones that then move in to gently tamp the stack after each part drops." Maximum stack weight and height: 8000 lb., 24 in.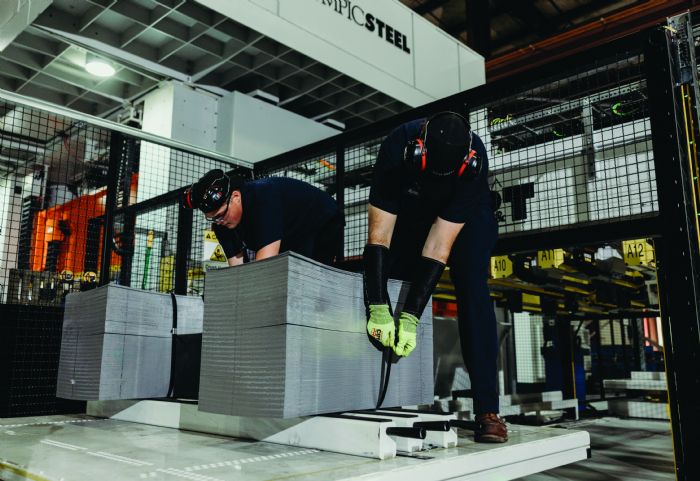 Remote maintenance on the drop-stacking line is enabled via a third-party device called Ewon, supplied by HMS Networks, an independent manufacturer of industrial-communication products, with remote maintenance being a key application. "That setup allowed our maintenance team, during line startup, to quickly get up to speed on troubleshooting the equipment," Whidby says. "It played a vital role.
"The key to the success of a project of this size and with so many moving parts is the ability to rely on the wisdom and input of the team you put together," Whidby continues. "We had a great team of people here in Georgia, as well as the current vice president of operations, Terry Rohde, and past executive, Ray Walker."
Whidby also credits the help of the team at equipment distributor Visionary Manufacturing Solutions, Rochester, MI., "who reached out to us when it heard that we were in the market for a blanking line," he says. "It has become one of our go-to resources on this project, as well as others."
Safety First
As Olympic Steel touts safety as a core value, Whidby stresses that the new blanking line was designed with that in mind. "Increased safety of our operators and packers drove many of the decisions we made," Whidby says. "Adding the automated stacker is a great example, because our packers do not have to manually handle parts as they exit the press. This one change eliminated the risk of hand injuries at this stage in production."
The entire line also is equipped with more than a dozen E-stops, so no one is more than an arm's reach away from stopping the machine in case of an emergency, Whidby explains. In addition to the E-stops, the line has numerous interlocks to keep the equipment from operating when someone is in harm's way, including five interlocked gates on the perimeter fencing to the automation and feed line; two die blocks to protect the operators when they need go inside of the press; and lockout/tagout points on every electrical cabinet and breaker box.
About the Press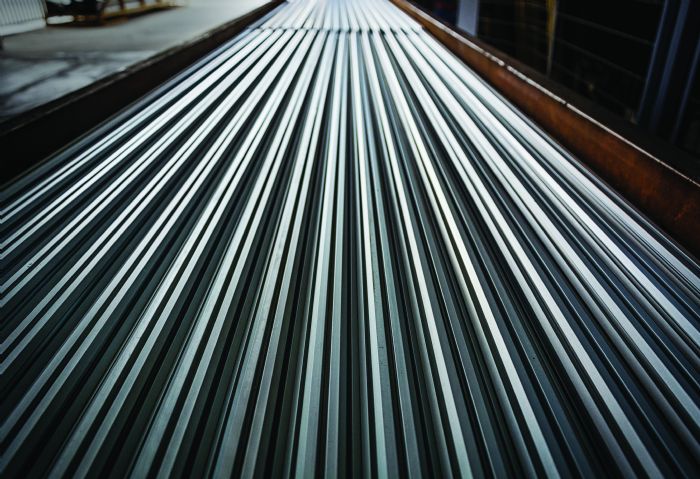 The 660-U.S.-ton eccentric-drive press, with 40-ton-capacity rolling bolster, spearheads the new blanking line at Olympic Steel's Winder facility. Its fabricated steel-frame structure members—crown, uprights and bed—are of a heavy, box-type construction, stress-relieved before machining. The bed is built to a standard of no more than 0.0015-in. deflection/ft. of bed length left to right and front to back, according to Stamtec regional sales manager Todd Helms, with the full-capacity load symmetrically distributed over two-thirds of the bed area. Eight full-length 90-deg. gibs guide the path of the slide. Other features include a high-torque low-inertia wet clutch/brake; dual-valve automatic hydraulic-overload protection system; herringbone gears, which provide quiet and smooth operation at higher speeds; and digital die-height indicator.
Included is a Wintriss SmartPac Pro press control (eight programmable limit switches and eight die-protection inputs), with WPC2000 clutch-brake control and AutoSetPac four-channel tonnage monitor, along with Wintriss Shadow 9 light curtains.
About Olympic Steel
Olympic Steel, headquartered in Cleveland, OH, operates more than 40 service centers throughout North America that distribute a variety of flat-rolled products and grades, ranging from commercial-quality to ultra-high-strength steel and specialty metals. The facilities also offer a full portfolio of value-added processing including cut-to-length, temper-passed, stretcher-leveled, burned-to-shape, forming, machining, welding and painting. In addition, its Chicago Tube & Iron subsidiary distributes steel tubing, bar, pipe, valves and fittings, and fabricates value-added parts and components.
In addition to ensuring efficient blank handling, which without the automation could have proven challenging at the press, scrap handling also has been a focus, "and we continue to work on that," Hall says. As an example, he points to a die that previously ran on the Verson, which generated 230 lb. of scrap/min. "But when that die runs on the Stamtec at nearly double that speed," says Hall, "scrap generation exceeds 400 lb./min.—that's a lot of scrap!"
Hall and Whidby continue to look for a better way to manage the high amount of scrap coming from the Stamtec line, originally equipped with a pair of eccentric-gear-drive scrap shakers dumping directly into a set of hoppers. "Recently," Hall explains, "we replaced those shakers with steel-belt conveyors and rack-and-pinion-drive scrap shakers that can better handle the scrap weight. Longer term, we're looking at using trailers and hydraulically controlled 'drop-bottom' hoppers, managed with an overhead crane to empty the hoppers into a trailer. We're also evaluating installing a permanent scrap conveyor straight from the press that would exit to the side of the building and dump directly into trailers."
Shock Dampers to Manage Reverse Tonnage
In addition to scrap-handling upgrades, the Olympic Steel team also plans the addition of shock dampers to the press to help handle reverse tonnage and enable the press to run at optimum stroke rates when taking on thicker material. "In order to maintain the longevity of our presses, we monitor and try to minimize reverse loads," explains Whidby. "The damping system on the Verson press does not need a heat exchanger. But because the Stamtec runs at a higher stroke rate, we are looking to add shock dampers with a built-in heat exchanger to dissipate the heat generated at higher speeds."
Whidby tells MetalForming that they soon intend to add shock dampers from W-Technologies, Mt. Carmel, IL. Heat exchangers in the dampers, according to W-Technologies, effectively remove heat buildup in the hydraulic oil, "critical in some blanking applications. Excessive heat will 'cook' the damper's seals, which eventually leads to leaks," according to information on the firm's website.
"We already can tell that the reverse tonnage will limit our stroke rate on the new press," Hall adds, "and by using the new dampers we will gain significant speed. With the press rated to 660 U.S. tons, maximum reverse tonnage is 66 tons. And, because we have a couple of dies at slower rates that already generate 60 reverse tons, productivity is limited. We expect that the new dampers will remove enough shock load to allow us to run many of our dies at their full stroke rates."
The new Stamtec press isn't the only focus. The Verson recently has benefited from the addition of a quick die-change cart that helps cut die-change times by half, or better, says Hall. The Stamtec has a rolling bolster that allows for die changes to be managed by an overhead crane. The rolling bolster, per Stamtec specs, provides 40-ton capacity, 196 in. of travel and 39 ft./min. maximum travel speed. It's equipped with wipers for removing slugs and foreign objects from the carriage rails as it moves in and out of the press.
"We also are looking to add a similar end-of-line automated stacker for the Verson line," Hall adds. "This will allow us to pick up a lot of speed on the large and heavy blanks that prove difficult to stack by hand." MF
Industry-Related Terms:
Bed
,
Blank
,
Blanking
,
Case
,
Core
,
Die
,
Form
,
Forming
,
Gauge
,
Point
,
Run
,
Scrap
,
Stroke
,
Thickness
View Glossary of Metalforming Terms
See also: Coe Press Equipment Corporation, AP&T North America Inc., Stamtec, Inc.
Technologies: Coil and Sheet Handling, Pressroom Automation, Stamping Presses