Feed Lines Fuel Flexibility
Both press lines consume coil stock delivered by CHS Automation feed lines—48-in.-wide by 20,000-lb. coil capacity on the 600-ton press, 72-in.-wide by 30,000-lb. coil capacity on the 2500-ton press, "with plans to upgrade to 50,000-lb. capacity," adds Long.
Both lines are specifically designed and built by CHS to handle a range of material thickness, from 0.020 to 0.375 in., including wide backup rolls to support feeding of dual-phase steel; chromed rolls to ease cleaning and facilitate quick changeover from aluminum to steel; a dual-caliper braking system to help control the material and avoid clockspringing; and the ability to quickly adjust roll pressure using 5-ton screw jacks (beefed up from the typical 3-ton setup).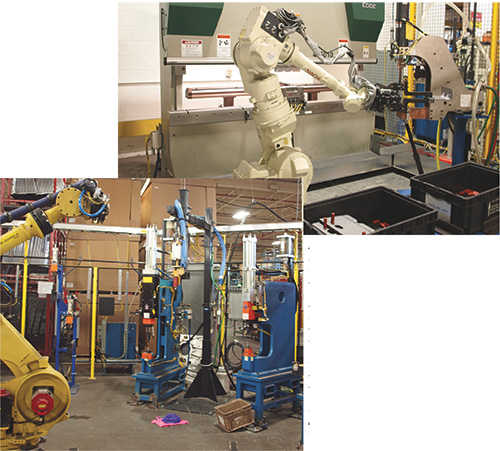 Automation spreads well beyond the pressroom and into the plant's 12 production cells housing a total of 84 robots. Shown here (above) is the newest robot cell, used to press-brake form 400 different part numbers and a total of 15,000 units annually. Parts, for the heavy-truck industry, vary just slightly based on bend angle (1-deg. increments from 81 to 99 deg.) and hole pattern. To manage the production complexity, the cell includes a camera system that reads a binary hole pattern laser-cut into each blank.

The production cell at the left features a robot that carries a fixtured assembly of six parts around the cell, where a variety of operations occur including welding, sealing, flanging and riveting.

"Pinch- and feed-roll pressure can be fine-tuned," continues Long, "thanks to a special counterbalance system on the cylinders so we can soften the load on the more sensitive material, such as aluminum, or on thinner sheet, helping to eliminate marking or waving of the material."

The feed systems also include seven-roll straighteners (3.5-in. roll dia. on the prog-press line, and 4.2-in. roll dia. on the transfer line); laser-based sensing to track coil OD in real time and automatically adjust roll/ brake pressure as the coil depletes; automatic coil centering; and (on the transfer press) an 8-ft.-deep looping pit to ensure smooth, consistent material feed, "especially critical when stamping Class A parts," says Long.

Lastly, as yet another example of flexibility at its finest, the feed setup for the progressive-stamping line features a specially engineered end wheel to hold down strip as narrow as 1 in.

With its relatively high-mix low-volume (1500 to 80,000) production plan, quick changeover obviously becomes critical. Long estimates that the pressroom spends 12 hr./week in die changes, and has plans in place to reduce that by half and open up additional capacity. Plans include adding a second rolling bolster to the transfer press, which is equipped with quick-pull quick-change transfer tooling; on the progressive line, an Atlas die-change system moves dies in and out in 7 min.

Automation Outside of the Pressroom

The robot count at QMC is high—84 robots spread over 12 production cells, performing a wide range of operations including resistance welding, scribing, sealing, press-brake forming and riveting.

"Our production cells are more than just about high-volume part production," says Long. "They're finely tuned processing cells engineered with the flexibility required to take on new assemblies with quick programmability and turnaround."

We spied, for example, one cell fully automated with one robot manufacturing nine variations of an automotive assembly. That workhorse robot carries a complete fixture assembly, comprising as many as six different parts, around the cell to its various workstations. Operations performed include resistance welding, sealing, flanging and riveting.

"The surge in automated production has fostered an entirely new culture here," Long shares. "The prototyping culture focuses on process development, providing unique solutions, whereas a production-oriented culture is all about scheduling the flow of labor and materials to a planned process. So, as we've expanded our production capabilities, we've changed the organizational structure within the company and placed production and prototyping under separate umbrellas, with separate leadership and management. That will ensure continued growth from both market segments of QMC." MF

Industry-Related Terms: Bending

,

Blank

,

Die

,

Edge

,

Transfer

,

Fixture

,

Form

,

Forming

,

Lines

,

Prototype

,

ThicknessView Glossary of Metalforming Terms

See also: Pneumatic Feed Service

Technologies: Coil and Sheet Handling, Pressroom Automation