Extrusion
Function: Produces screw holes, tube holders and locators, and doubles as a connector.
Benefit: When paired with a round hole, the extrusion snaps and locks two parts in place.
Scratch
Function: Designed for sheet stopping and as a weld locator.
Benefit: Scrapes material into a stop on one side of the material, leaving no holes or marks on the opposite side.
Bridge
Function: Used for parts that require dividers, ventilation or wire tie-downs.
Benefit: Doubles as an efficient sheet-topping solution.
Cluster
Function: With two to 120-plus tips per punch, makes holes with each stroke of the machine.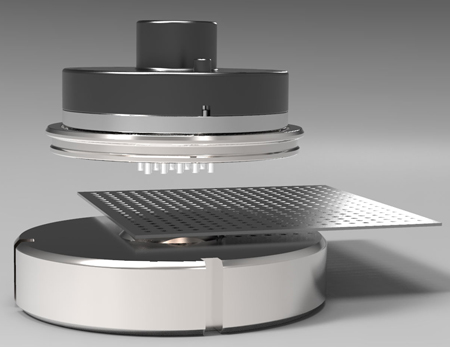 With two to 120-plus tips per punch, perforating with cluster tools is fast and efficient.
Benefits: Less time required for punching and managing sheet stretch. Combats sheet distortion and oil canning that can result from perforation applications. Add a back-bending die to reduce distortion further.
Louver
Function: Creates louvers for airflow or ventilation applications.
Benefit: Also can be used to create stops in less time and for less money than using jigs or fixtures.
Half Shear
Function: Aids in assembly and reduces the need for jigs and fixtures.
Benefit: An additional stopping option.
Multi-Scribe
Function: Offers an unlimited range of sheet-marking options.
Benefits: Used for both sheet scribing and dot-matrix marking on a range of materials, eliminating the need to change tools each time produce a different mark. MF

Industry-Related Terms:
Bending
,
Die
,
Form
,
Forming
,
LASER
,
Oil Canning
,
Punch Press
,
Stroke
,
Turret Press
,
Turret
,
CNC
View Glossary of Metalforming Terms
See also: Wilson Tool International
Technologies: CNC Punching