Form Knockouts that Exceed Station Range
or Press Tonnage Capacity
To achieve knockouts larger than the presumed capability of the punch press, use a segmented knockout tool (Figs. 6-7). These knockouts won't be as 'pretty' as those formed by a standard knockout tool, but they do the job in many applications. These tools position knockout tabs at specific locations to facilitate slug removal.
A variation of the segmented knockout is the arch-bridge lance and form tool, with each edge of the arch chamfered to help overlap the hits and minimize distortion.
Employing either tool for larger knockouts uses less tonnage than standard tools on smaller knockouts, thus reducing machine wear. Another knockout technique for minimizing machine wear: use of down-forming. It produces a larger footprint without requiring increased press tonnage. In contrast, up-forming requires a spring stripper and additional force.
Rollerball and Straightline Deburr Tools Eliminate Secondary Operations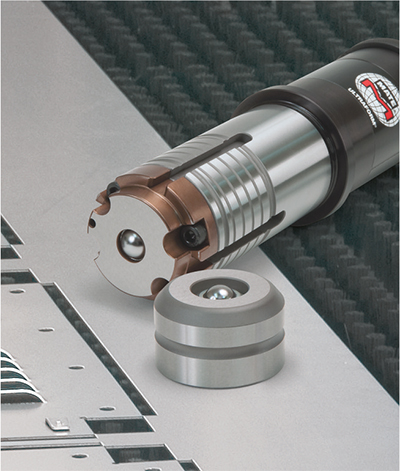 Fig. 8—Always a problem, burrs on parts can be removed using a rollerball tool (shown) or straightline deburring tool.
The rollerball deburr tool is designed for thick-turret and Trumpf-style presses. This tool, operating in the x and y axes of the press with the ram down, pushes the burr away and creates a radius on the side of the part (Fig. 8). Using a special ball in the upper and lower part of the tool, all part contours can be processed, including small corners.
The straightline deburr tool deburrs in a straight line as well as through tight corners, and is used in an auto index station or as two tools set at 90-deg. angles to each other. It utilizes a raised area on the die, angled at 20 deg., and coins the burr back into the material's fracture area. The 20-deg. angle helps prevent sideways movement of the material or parts. While not material-thickness-specific, the straightline deburr tool is parting-tool-specific, and should be designed for use with a specific-width parting tool when immediately deburring adjacent parts. It also can be used to deburr a single side or the interior of a rectangular opening.
Both straightline and rollerball deburr tools are good tooling investments because they eliminate time-consuming and expensive secondary burr-removing operations. MF

Article provided by Mate Precision Tooling, Anoka, MN; www.mate.com
Industry-Related Terms:
Burr
,
Center
,
CNC
,
Corner Radius
,
Corner
,
Die Clearance
,
Die
,
Edge
,
Form
,
Forming
,
Obround
,
Outside Radius
,
Point
,
Punch Press
,
Ram
,
Slug
,
Stripper
,
Blanking
View Glossary of Metalforming Terms
See also: Mate Precision Tooling
Technologies: CNC Punching