Versatile Manufacturing via New Punch-Laser Combo Machine
September 29, 2020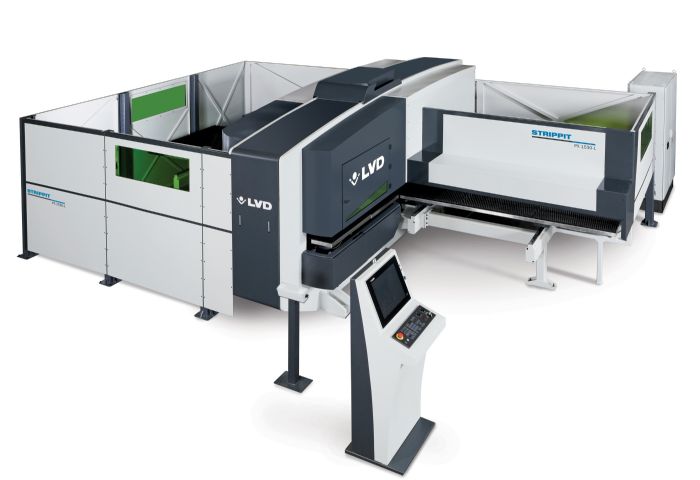 LVD Strippit has rolled out the Strippit PL Punch-Laser combination machine, which combines the punching and forming capabilities of the Strippit PX- or V-series punching machine with the speed and versatility of fiber laser cutting. Three punch-laser models are available: the single-head-style Strippit PX 1530-L, and the Strippit V 1530-L in thick- and thin-turret configurations.
The combination setup provides answers for the trends toward small batches, short lead times and increasingly complex parts. The Strippit PL, offered with a 3- or 4-kW fiber laser source and paired with the Strippit PX single-head 20-ton punch press, can laser cut intricate shapes and process materials to 3/8 in. thick, punch holes to diameters of 0.250 in., produce forms and bends in lengths to 3.543 in. and heights to 3 in.
Combination technology offers complete part processing, according to LVD Strippit officials, who note that the punch press handles high-speed punching and forming operations, while the fiber laser delivers high-quality cutting of outer contours and intricate inner contours, and can be used for material etching. In addition, they report, the combination of technologies eliminates processes, can improve part quality, reduces production time and material handling, and lowers the cost per part in both small lot sizes and high production runs.
The machine can process a 120 by 60-in. workpiece without repositioning, and a 15.9 by 60-in. work chute evacuates laser-cut parts.
See also: LVD North America
Technologies: CNC Punching