Turret Punch Presses Boast Additional Turret Capacity
August 1, 2011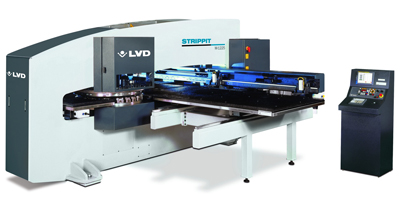 LVD Strippit, Akron, NY, introduces the Strippit M-Series of mid-range 20-metric-ton CNC turret punch presses, which feature a 51-percent larger turret capacity (47 stations) compared to previous models. Equipped with the firm's Energy Reduction System (ERS), M-Series presses consume as much as 30 percent less electrical power than comparable machines and are less costly to operate and maintain. Included are three 3.5-in. auto-index stations and four 2-in. stations. Each station accepts shaped punches and dies and can be enhanced with the addition of indexable multi-tools.
Strippit M-Series machines are equipped with an advanced servo-driven hydraulic press drive capable of axis speeds to 380 hits/min. on 1-in. centers, and 900 hits/min. on 0.04-in. centers. Maximum sheet size: 49.21 by 98.4 in. without clamp repositioning. Maximum workpiece thickness: ¼ in. Fabricators can use the press to form lances, louvers, embossments and card guides due to a 0.984-in. maximum feed clearance between the upper and lower turrets.
LVD Strippit: 800/828-1527; www.lvdgroup.com
See also: LVD-Strippit, Inc.
Technologies: CNC Punching