The introduction of an electronic ram drive employing a servo motor, Angel explains, resolved most issues with hydraulic drives while retaining the benefits. He notes that Murata introduced its servo-ram-controlled machine in 1994.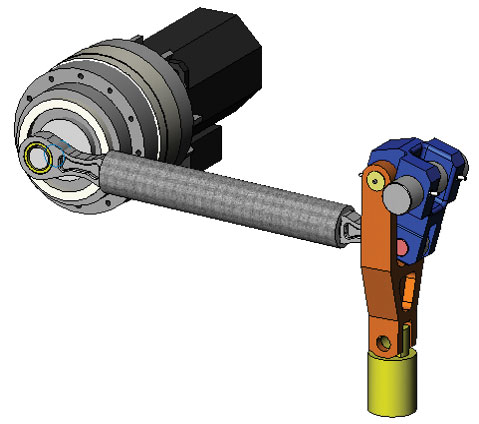 The simple design of servo drives in CNC punching machines deliver efficiency, speed and maintenance advantages over drive systems in hydraulic and mechanical machines.
Before Angel details how servo-controlled machines differ, here's a glimpse at just how servo-controlled punching machines improve upon their mechanical and hydraulic predecessors, according to Jeff Tyl, North American sales manager for fabrication at Murata Machinery USA. The company's servo-controlled 33-ton turret punch presses (TPPs), he offers, use 40 percent less power than standard 30-ton mechanical TTPs and 74 percent less power than older 30-ton hydraulic TTPs, and run 43 percent faster than their predecessor mechanical TPPs.
Adjustable-Ram, Setup Advantages
Servo-controlled rams make CNC punching machines extremely accurate, enabling adjustment of ram position in 0.001-in. increments, according to Angel.
"This is critical for tool setups and unique tasks," he says. "For example, using bending tools and a rocker-arm-type device, such precision adjustment allows creation of small tabs. By adjusting ram position, CNC punching machines can produce these tabs at any angle to 90 deg., and slightly greater."
Countersinking and embossing tools also benefit from ram-position adjustment and electronic shimming.
"Many times," Angel says, "the same tool can work across a variety of material thicknesses, with electronic shimming allowing for multiple adjustments without removing the tool. And, each adjustment can be saved and used automatically based on supplied material information."
Servo-controlled CNC punching machines on the shop floor open up the ability to use tools such as those mentioned above, which replace costly and time-consuming secondary operations.
Introduction of these tools arose chiefly through the introduction of hydraulic ram drives.
"The wheels and scribing tools work due to ram-position control," Angel offers. "The ram descends on the material, and the X and Y axes can travel while the ram stays down. While the hydraulics could do that, servos perform such functions much better, with more consistency and accuracy. This eases component fitup as these parts move into assembly operations—much easier for manufacturers faced with such tasks."
As mentioned, ram positioning accuracy also pays big dividends in setup—a traditional challenge in punching machine operations.
"Setup time used to be a big problem," Angel says. "The accuracy of servo drives alleviates that. Fabricators now experience much more green-light time on their machines."
Save Big on Energy, Maintenance Costs
"Today's full servo-controlled CNC punching machines run at a much lower cost than the original mechanical machines and hydraulic machines, with minimal overall maintenance requirements as compared to previous models," Angel says. "This, along with the reliability of servo drives, restores machine longevity to traditional expectations."

The main energy savings in servo-controlled CNC punching machines result from elimination of hydraulics, according to Angel.
"A hydraulic unit assists with punching force in mechanical machines, with purely hydraulic machines using larger-capacity hydraulic units," he explains. "Chillers used on many hydraulic machines add to running costs and maintenance needs. These machines basically must run constantly in order to be ready to supply punching power. All-servo machines, on the other hand, consume very little power when not punching."
Maintenance of servo-driven CNC punching machines, according to Angel, only involves the general daily/weekly cleaning and oiling that any machine tool requires, with servo drives themselves needing no special maintenance. Elimination of hydraulics means no oil replacement and monitoring of hydraulic components that tend to wear due to heat buildup and constant operation. In addition, with hydraulics typically not standardized, maintenance and component replacement always has brought an extra level of complexity.
Today, fabricators easily can monitor machine run time daily, weekly and yearly, which enables creation of preventive maintenance schedules. And, because tooling represents the major wear item in the punching world, notes Angel, the ability exists to track tool-hit counts and setup limits, with such tracking indicating when tools should be checked for maintenance and sharpening.
Another maintenance plus noted by Angel: Even when trouble arises, servo drives have been used for X- and Y-axis movement in punching machines for many years, and fabricators can employ knowledge gained there when addressing the ram drive.
"Servos used for the ram drive do not represent a completely different system that demands its own knowledge base," he says.

Effectively Serves Automotive Aftermarket
With this issue of MetalForming set for distribution at the Precision Metalforming Association's popular Automotive Parts Suppliers Conference, April 28-29 in Detroit, MI, we felt that the efficacy of CNC punching in this sector be addressed in this article. Though not typically introduced during automotive new-part volume production, CNC punching finds heavy and immensely effective use in aftermarket and customization applications.
For example, fabricators will employ servo-controlled CNC punching to customize basic vehicles—adding tanks, cabinets or specific beds, according to Angel. Chances are that any emergency, lawncare, electric company or other contractor vehicle features customization via CNC punching.
"Such custom, low-volume production," he says, "lends itself well to these versatile machines." MF

See also: Muratec Murata Machinery USA, Inc.
Technologies: CNC Punching