Three Years Make a Difference
The firm's newest laser-cutting machine also features a downdraft dust- and fume extraction system (from Camfil Farr) located beneath the cutting table. It's divided into four sections, and during the cutting process, only the ducts directly beneath the cutting head are open for fume extraction. The ducts in the other sections remain closed to improve dust collection and reduce energy consumption. Amada also says that the machine's state-of-the-art resonator and optics system increases cutting speed and quality over previous models, which Laystrom can attest to.
"With the new machine we've seen a 5- to 7-percent increase in effective speed, or output and productivity, compared to the 2008 model," Laystrom says. "Most of that improvement comes from increased control over the piercing process. And, the new machine also does a better job on reflective materials like stainless steel and aluminum. For example, a job that features numerous pierces and takes 2 hr. to process on the 2008-vintage machine might only require 80 min. to process on the newer model. So, we tend to schedule that type of work on the new machine."
Most (70 percent) of the material that runs through Laystrom's laser-production cell, and moves onto a series of press brakes for forming, comprises carbon steel. And some 30 percent of that work winds up in assemblies for the firm's largest customer, an OEM manufacturer of agricultural machinery. Stainless-steel sheet represents another 15 percent of the work load, much of it for the power-distribution industry.
"This (stainless steel) is where the piercing capabilities of the FOM2 really pays off," says Laystrom. "We can laser-cut holes in stainless-steel panels rather than having to process the work on a turret press, and avoid the extra material-handling operations. In fact, with the new laser we've been able to decommission three of our four turret-punch presses."
Laystrom's fabrication department processes material from 0.030 to ¼ in. thick, with plenty falling within 0.030 in. to 14 gauge. Sheet size has grown as the firm has replaced its original 1998-vintage laser (48 by 48 in. sheet capacity) to a maximum of 60 by 120 in. In addition to supplying the agricultural market, Laystrom has a sizable customer base for precision stamped and fabricated parts in the medical and telecommunications industries—each comprises 20 percent of its workload.
Attacking the Cost of Quality
When we visited the firm, Laystrom's brother Jim was busy developing a new process-validation methodology to help the firm minimize its cost of quality. "We're piloting a process to shift from product validation to process validation," says engineering manager Jim Laystrom. "To get started, we're creating standard coupons of varying combinations of workpiece material types and thicknesses, and laser-cutting the coupons to develop acceptable cut quality, then documenting the process 4 third-, and fourth-run parts orders that have gone through the laser one time will not require first-part inspection from our quality-control department. Instead, the machine operator will simply compare the part to the coupon, verify proper process settings —optics, cutting parameters and so on —and he'll be good to go. This will dramatically decrease our quality costs and increase machine run time."
Also impacting quality has been the firm's dedication to maintaining the integrity of the cutting bed, an egg-crate-style bed comprised of V-cut slats of sheetmetal. "As the slats wear from use, the workpiece material may move out of level, which can impact cut-edge quality," says manufacturing engineer Terry Foley. "So we ask our operators to keep a close eye on the condition of the cutting-machine beds and change out the slats—which we cut ourselves—regularly. This is particularly important when working with thinner work. And, when jobs run lights-out, any quality issues caused by out-of-level work will compound sheet after sheet. We certainly don't want a quality issue to persist through an entire untended shift."
Lastly, cut-edge quality took a turn for the better when, in 2008, the firm committed to using nitrogen assist gas, rather than oxygen, on any work thicker than 11 gauge. "Nitrogen cuts faster and improves edge quality to help avoid deburring and improve paint adhesion," says laser technician Hugo Vega. "We've been taking on more stainless-steel work and heavier-gauge mild steel," adds manufacturing manager Eric Hauser.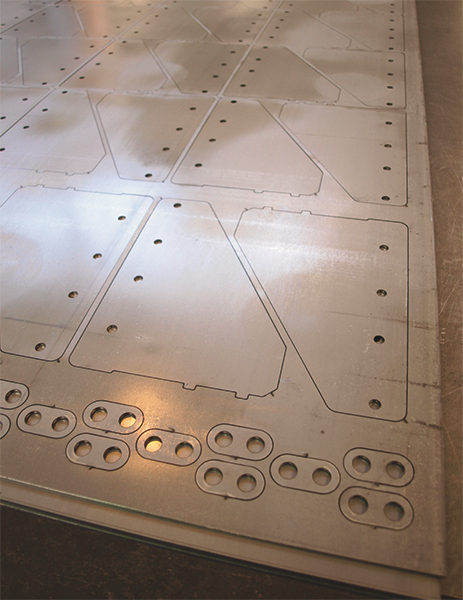 Laystrom's fabrication department processes material from 0.030 to ¼ in. thick, with plenty falling within 0.030 in. to 14 gauge. With its newest laser-cutting machine, purchased in 2011, it's experienced a 5- to 7-percent increase in effective speed, or output and productivity, compared to its 2008-vintage laser-cutting machine. "Most of that improvement comes from increased control over the piercing process," Laystrom says.
To support its nitrogen habit, Laystrom purchased two Amada EZ Cut nitrogen-generating systems. Compared to using bottled nitrogen, according to Amada, using generated nitrogen (95 percent pure) will provide a more polished finish on thin-gauge stainless steel.
Finally, Hauser notes that some customers in the medical and power-distribution industry have been requesting laser cutting with 99-percent pure nitrogen. To meet that need, Laystrom recently installed a bulk system for distributing ultra-high-purity nitrogen. "It allows us to bulk-fill units directly from the delivery truck," says Hauser, "and gives us the equivalent of three dewars manifolded together. This increases our ability to run lights-out and maintain the gas pressure required."
A Symphonic-Like Cell
Watching the automated laser-production cell run is like watching a carefully directed symphony. Each cell component relies on the other components, and the entire orchestra of parts relies on the conductor—the operator (and also the programmer) to carefully direct its activities. Featured is the Amada AMS 3015 system; Amada says that more than half of its customers that have purchased the system have added a second laser, as has Laystrom. The modular building-block system includes the raw-material and finished-sheet storage towers, and shuttle tables for carrying material to and from each laser-cutting machine. Each tower shelf is rated to 4400 lb. of material and a maximum stacking height of just under 5 in. "And, down the road we can increase capacity by adding another five shelves to the material tower," says Bob Laystrom.
The goal when programming the cell, explains second-shift supervisor Sergio Cano, is to try to have one cutting machine running jobs with longer cycle times, and load shorter-running jobs on the second cutting machine, to "minimally disrupt the material-handling automation," says Cano. "But then we may have days where one laser runs from the automation all day while the operator loads smaller blanks on the second machine, to process small orders."
Most often, the workcell processes a fully loaded tower of raw material over two shifts. The operator will start his day by spending 2 hr. loading the material-storage shelves to capacity, and initiating the programmed run cycle from the cell scheduling controller. "We probably run 50 different types and thicknesses of carbon steel, stainless steel and aluminum regularly," adds Vega.
The software (Amada's Dr. Abe) then takes over. It tracks inbound material inventory, and also keeps tabs on where each job ends up in the finished-goods tower. "And we can monitor the entire cell over the Internet via computer or smart phone," adds Foley.
With so much laser-cutting capacity, pressure to keep production flowing falls on downstream press-brake bending, and to react Laystrom has beefed up operations there, particularly on second shift. "Up until we bought the second laser-cutting machine," continues Foley, "we'd run 45 hr. per week on regular 9-hr. days for one shift, and stretch to 10- or 11-hr. days on overtime. Plus Saturdays. Now we have a second shift and need two or three additional press-brake operators to keep the work moving."
MF
Industry-Related Terms:
Bed
,
Bending
,
CAD
,
Carbon Steel
,
Center
,
Edge
,
Forming
,
Gauge
,
LASER
,
Model
,
Piercing
,
Plate
,
Run
,
Scale
,
Stainless Steel
,
Turret Press
,
Turret
View Glossary of Metalforming Terms
See also: Amada North America, Inc, Camfil Air Pollution Control
Technologies: CNC Punching