Tube-Bending Software Also Accommodates Laser Tube Cutting
January 1, 2015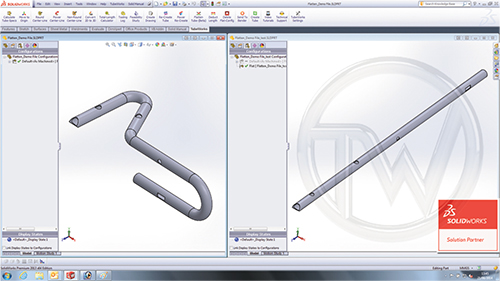 A new version of the TubeWorks tube-bending CAD/CAM software, which provides tube and pipe fabricators with powerful preproduction tools for laser cutting as well as tube bending, is available from UK tube-bending machine manufacturer Unison (sold in the United States by Horn Machine Tools, Madera, CA).
Developed by the software consultancy 3DCompound, TubeWorks is an add-in module for SolidWorks. By combining powerful visualization capabilities with automatic code extraction and file generation, the software enables metal fabricators to increase the productivity of their tube-handling operations through optimal use of manufacturing data. The time that it takes to develop programs for CNC tube bending and laser tube-cutting machines can be reduced from hours to minutes, say company officials.
For tube bending, the software automatically extracts key manufacturing information such as bend angles and rotations from a native SolidWorks model or a common CAD file, and creates the bend table for immediate use on a CNC bending machine, as well as the XYZ coordinates and a 2D drawing of the modeled tube. Version 2.6 of TubeWorks extends this functionality significantly, by enabling users to "unbend" the CAD models of bent tubes into flat (or straight) configurations containing full details of all holes and cutouts, to provide the input data for laser tube-cutting machines.
As well as automating the extraction of manufacturing data, TubeWorks offers numerous functions to further help users minimize the preproduction design time of machine-based tube cutting and bending. These include automated centerline creation through tubular geometry (for round and non-round profiles) and automated conversion of imported tube models into native SolidWorks models for centerline-radius modification.
The latest version of TubeWorks also now offers an automated Deduct Length function that enables users to shrink flattened tube configurations simply by specifying the required length change and the point at which it should be applied. This compensates for the elongation shown by a coordinate measuring machine. Users then can create a new YBC file for the bending machine and a new ParaSolid file for the laser-cutting machine.
www.hornmachinetools.com
See also: Horn Machine Tools, Inc.