Software for Tube Bending, Forming, Hydroforming
December 27, 2019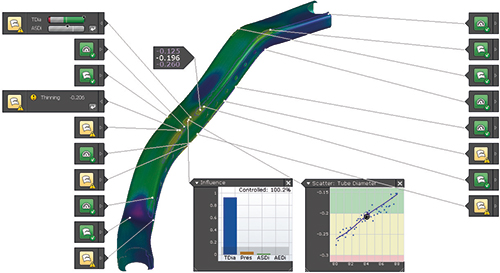 AutoForm Engineering GmbH announced its TubeXpert R8 software, developed to streamline the digital process chain for tube bending, forming and hydroforming. With this software, users can define the tube bending, forming and hydroforming processes based on imported part geometry and then use this information for rapid tool design and simulation setup. New design functionalities, such as for radius changes, surface extensions and morphing, allow users more flexibility to modify the part and tool designs, and to analyze the effect of these modifications on formability. Based on CAD-surfaces technology, TubeXpert R8 designs can be exchanged with other CAx systems.

Another benefit: improved springback evaluation and compensation capabilities. With it, users can perform accurate springback simulation after any of the forming- process operations. The software then automatically makes the necessary adjustments to the tool geometry and process parameters in order to compensate the effects of springback. The compensation functionalities can be applied to tool geometries created by AutoForm TubeXpert R8 as well as imported tool geometries throughout all of the process operations.

When setting up simulation and during results evaluation, the ability to define and apply standards improves consistency in the engineering process, reduces the number of mistakes and ensures compliance with required standards. Based on the defined standards, the newly developed issue detection automatically highlights forming issues and prevents overlooking quality deficiencies.

The full integration of AutoForm-Sigma technology in AutoForm TubeXpert reportedly ensures an optimal forming process through its highly efficient and systematic engineering methodology. Instead of setting up multiple single simulations, users can define value ranges of multiple design parameters and evaluate their impact on part formability and quality all at once. In this way, ideal process conditions can be rapidly identified, while important information on how far a feasible process is from failure also can be ascertained. To ensure robust part production, the effect of uncontrollable variations of process parameters, such as material properties, pressure and friction conditions, can be analyzed.
See also: Autoform Engineering USA
Technologies: Bending, Software, Stamping Presses