Quick-Change Tube-Bend Tooling
April 1, 2014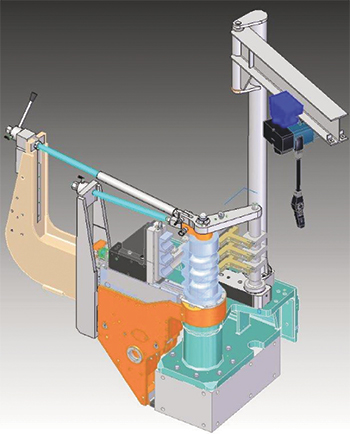 AddisonMckee, Lebanon, OH, has designed an innovative quick-change tool system that promises to dramatically reduce the manpower and time required for changing tooling on tube-bending machines. With the quick-change tool system, part-to-part tool changes with either single or multi-stack tooling can be accomplished by one person in less than 10 min.
The system holds the bend die and wiper posts together as a set by a lifting plate, which negates the need for wiper or bracket adjustments during tooling changeovers. Retaining the bend die and wiper posts as a pair makes the wiper inserts less susceptible to accidental damage. The lift plate includes a single hook for removing the bend die and wiper post together via a small crane mounted to the tube-bending machine. An automatic clamp unit quickly locks the bend die and wiper posts to the machine without any additional tools or fasteners.
Also, a tie-bar system incorporates a cam-action release to ensure minimum operator setup time between tool changes. A quick release tie-bar pin provides for effective tie-bar retraction without the need to remove the tie-bar from the machine.
Other features include a quick-release clamp and follower, also removed and replaced from the machine using a lifting hook or by hand.
AddisonMckee: 513/228-7000;
www.addisonmckee.com
See also: Addison Mckee, Inc.
Technologies: Bending