Fully Electric Multi-Radius Tube Bending Machine
December 27, 2019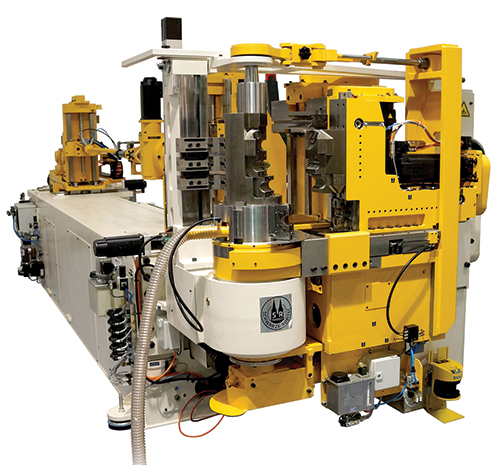 Schwarze-Robitec has introduced its fully equipped, fully electric multi-radius tube bending machine, the CNC 80 E TB MR. From the company's High Performance series, this machine can bend tubes in diameters to approximately 3 in., and cut them in the same process step thanks to an integrated fully electric cutting unit.

At FABTECH, Schwarze-Robitec presented the fully electric version of this feature to a U.S. audience for the first time. By combining bending and cutting processes, the machine enhances efficiency and saves resources during processing, leading to shorter turnover times and a reduction in material waste by as much as 90 percent, according to company officials. Despite featuring a multi-stack bending tool, the machine can cut tubes directly due to its extended vertical transport carriage. A vertically adjustable pressure die moves to the individual levels in sync with the tube. Reportedly, this means that the contact pressure can be optimally gauged, while tool costs and tool changing times are reduced.

Additional features of the machine help to ensure a more rapid production process. For example, for each bending sequence, the NxG control system assesses the interaction between all axes, operates them simultaneously and prepares the next sequences. This reportedly reduces production time by 20 to 40 percent depending on the component and the desired tube geometry. In addition, faster refitting times are ensured thanks to the Quick-Tool-Unlock system in combination with a rapid clamping system for the bend former. As a result, tension bars can be opened and closed for simple tool changing, without the need for bolts to fasten the bend former to the turntable. This helps to increase repeatability and process security.

Technologies: Bending