Electric CNC Tube Benders Hold Up to Four Tool Sets
September 1, 2015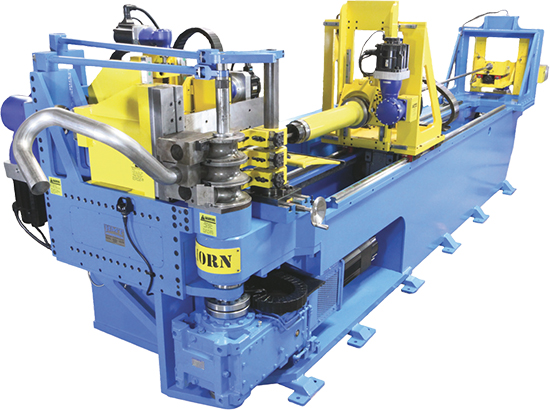 From Horn Machine Tools (HMT), Madera, CAL, comes a line of all-electric CNC benders with tube capacity from 2 to 10 in. The clamp and pressure dies are equipped with large electric servo motors, and the Quad Stack design allows the user to mount as many as four sets of full-sized bend tools at once. This provides the flexibility to rapidly switch between sizes, or allows for greater capability to bend complex shapes. Options include a shearing device and load/unload automation for continuous production.
These machines are designed intentionally for 24/7 production, say HMT officials. They can bend tight-radius stainless steel on the rated diameter size. Draw bending in combination with push rolling capability are included as standard features.
Says president Kent Horn: "Production tube bending is not simply a matter of faster bending speed, it is a combination of all of the axes moving fast in simultaneous motion to reduce nonvalue-added cycle time. Fast clamping, stack shifting and carriage positioning will improve production rates as well as bending speed."
Horn Machine Tools: www.hornmachinetools.com
See also: Horn Machine Tools, Inc.
Technologies: Bending