Automated 3D Laser Tube Cutting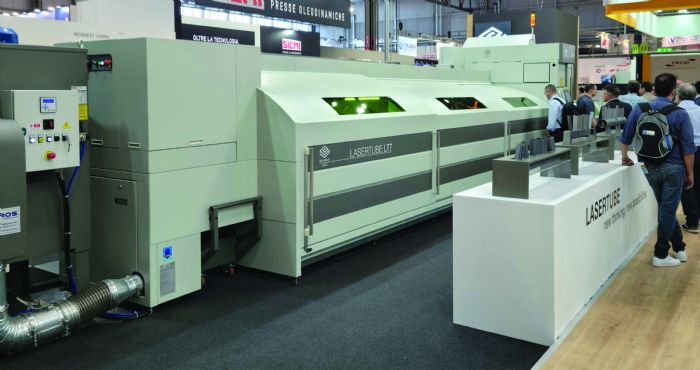 At Lamiera, BLM Group put its Lasertube LT7 3D laser tube-cutting machine on display. It features 3-kW laser power, automatic loading for tube bundles to 6.5 m long and unloading for tubes to 4.5 m long. It provides 3D cutting of round, square and rectangular tubes, as well as special sections and open profiles, and cuts tubes and profiles weighing to 23 kg/m. And, it processes tube and pipe in diameters from 12 to 152.4 mm.
To speed production, the LT7 can self-configure for next-batch production. At the end of each batch, according to BLM Group officials, various system components rest while intermediate supports automatically adapt to the new section to be cut, without interrupting the production cycle.
Flat Laser Cutting With Automatic Sheet Handling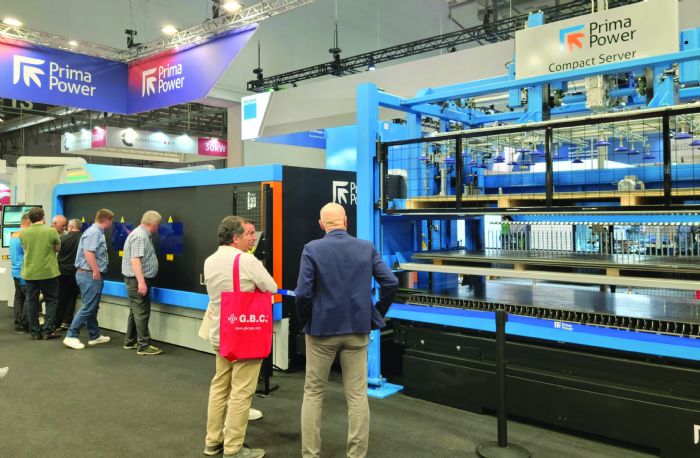 Prima Power showcased its Laser Genius+ flat laser cutting machine in tandem with a show motto of "All sides of performance," which summarized the company's integrated approach to fabricator needs. The machine's attributes include a trajectory speed of 180 m/min. and 2.8-g acceleration, enabling short cycle times while maintaining high cutting quality. Three machine sizes—represented by models 1530, 2040 and 2060—offer a range of laser power.
And, as a plug-and-play machine, the Laser Genius+ enables rapid installation as well as a symmetrical and reversible layout that increases ergonomics and ease of integration into any production context. Despite a compact layout, the machine features a large working area—X- and Y-axis travel of 3150 by 1600 mm for the 1530 model, 4320 by 2200 mm for the 2040 and 6320 by 2200 mm for the 2060.
The Laser Genius+ features two 24-in. full-HD monitors and a 4K video camera as standard, integrated software modules that simplify processes, and new sensors and artificial intelligence algorithms for advanced monitoring and process-control functions. The machine can be connected to the range of Prima Power automation systems. At Lamiera, Prima Power presented the machine with a Compact Server automatic loading and unloading device for raw and processed sheets, and an additional loading/ unloading station, a compact arrangement that allows for flexible material handling.
High-Productivity Hydraulic Press Brakes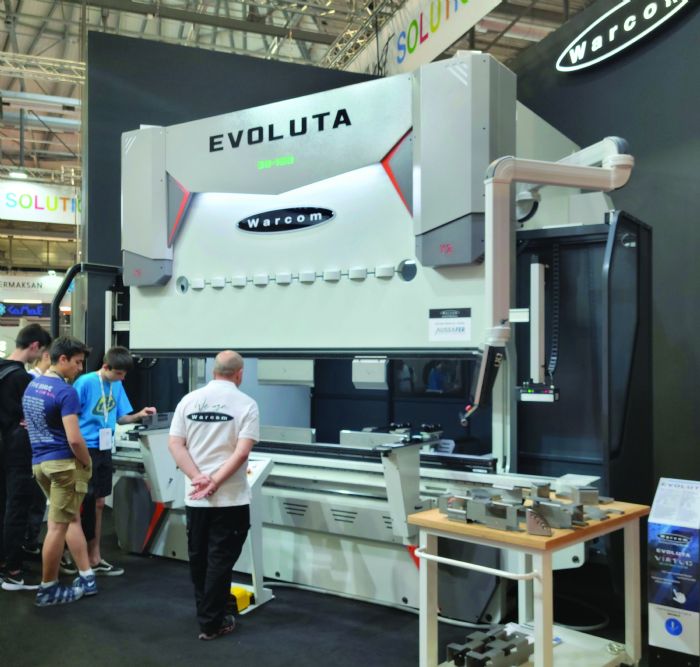 Warcom highlighted the Evoluta series of hydraulic press brakes that promise high productivity with accuracy, repeatability and flatness of the bent sheet metal on various materials and thicknesses.
The Evoluta features Warcom's FCS (Full Compensation System) with real-time dual automatic compensation, to help ensure ideal bending results. And, this series' unique hydraulic unit reportedly allows for rapid and efficient ram movement, reaching approaching and return speeds of 240 mm/sec., and bending speeds to 30 mm/sec. Such speed becomes possible due to the sliding movement of the Evoluta upper beam, accomplished via hardened and ground guides with roller bearings, which reduce dynamic friction and ensures smooth movement. Providing safety at any speed is the LazerSafe safety system from Iris. Other machine features: CAN/BUS communication system, heat exchanger, standard silenced pump and a 21-in. Talento CNC touchscreen.
The Evoluta and other Warcom fabricating equipment are available through Fabrication Solutions & Technologies (fststeelfab.com), Judson, TX, a unit of Italy-based Imcar Bending & Welding Technologies.
30-kW Laser Cutting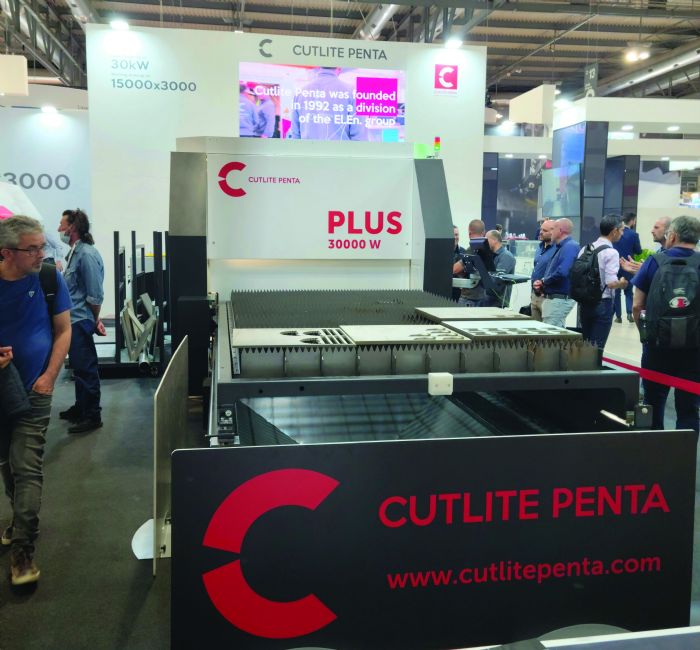 Cutlite Penta premiered its Fiber Plus 30-kW fiber laser cutting machine, featuring movement via linear motors that enable high dynamics (to 2.5 g) and productivity even on extremely complex geometries, according to company officials.
The Cutlite Penta-designed and -built cutting head promises high cutting quality for sheet thicknesses to 50 mm, with the machine's dynamic fluid management reportedly allowing for significant savings in use of assist gases and, in turn, decreases in operating costs. Specs include work areas to 15100 by 2150 mm and beyond in custom versions; Z-axis travel of 120 mm; and cutting speed to 140 m/min.
Energy-Efficient Hydraulic Press Brakes Run Quiet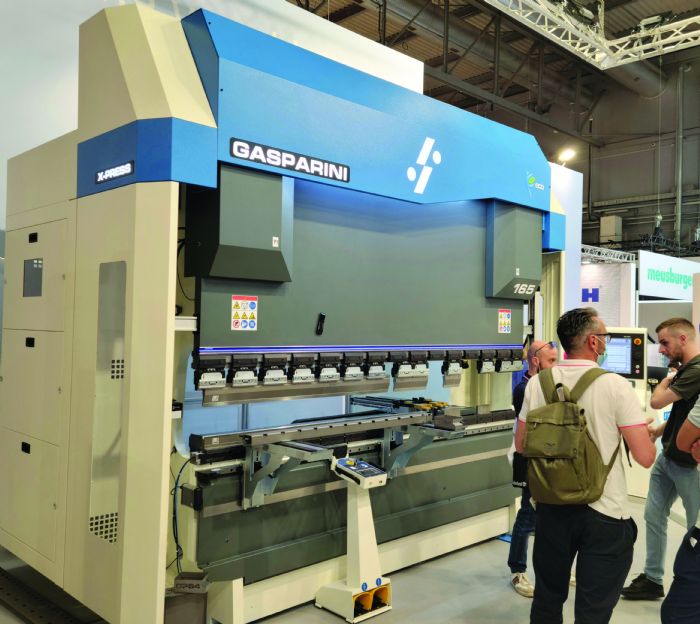 Gasparini showcased its X-Press 165-ton hydraulic press brake with a 3-m bed and the Eco package, which maintains continuous control of the press brake main motor through a vector-control inverter. Instead of rotating at a fixed speed, the motor is continuously modulated. This enables the hydraulic pump to run at low rpms for reduced flow, and then accelerate to top speed when increased flow rate and pressure are required. When the press brake idles, the motor stops, thus reducing energy consumption—by as much as 50 percent as compared to standard versions—as well as oil stress and noise. Even when running at full power, typical machine noise level on the operator side never exceeds 63 dBa, according to company officials.
X-Press-series press brakes feature welded and normalized structures to guarantee maximum stability, and now come equipped with newly designed backgauges. The machines can be configured as standalone, or in tandem/tridem/quadrem and integrated in a robotic cell or automated line.
Robot-Panel Bender Combo Highlights Industry 4.0 Focus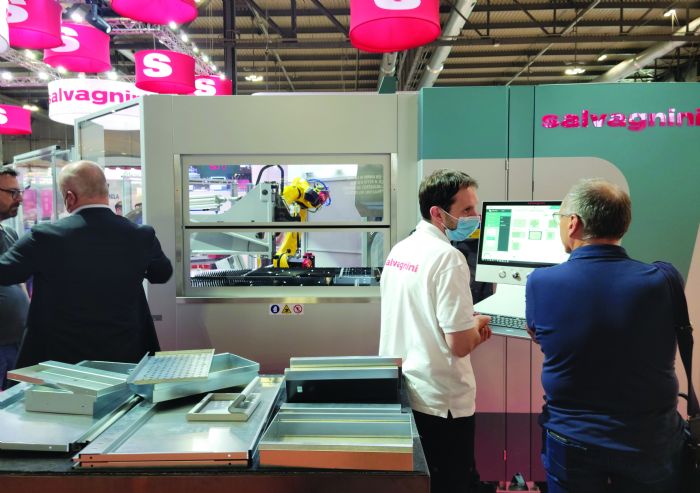 Salvagnini spotlighted its new P-Robot, a robot-panel bender combination designed for autonomous single-piece, kit and batch production. Featuring simplified programming, setup and use, P-Robot features a compact, modular layout with the ability to customize. At Lamiera, P-Robot included Salvagnini's P1 electric panel bender, but the concept also works with P2 and P4 benders, according to company officials.
Salvagnini also premiered its ADC, compact automation for sheet metal loading and unloading. Stated strengths of ADC include a compact footprint, rapid cycle times and quick installation.
These exhibits highlighted the company's progression from lean-environment automation introduced in the 1980s to lights-out manufacturing to 4.0 factories of today, according to Salvagnini officials. This is summed up in the company's theme presented at Lamiera: Beyond manufacturing. The theme reflects incorporation of Industry 4.0 technology as well as pre- and post-sale service.
"The market, which is increasingly oriented toward a make-to-order and just-in-time strategy, and the recent pandemic context, have pushed us and are continuing to push us in this direction: today operators can continue to express their own potential, even remotely if necessary," explains Tommaso Bonuzzi, Salvagnini sales director. "The new digital tools that we have made available allow operators to make the most of the functionality of Salvagnini machines, which are able to react to everything happening around them, upstream and downstream, in the production cycle. These adaptive machines are equipped with a full array of sensors and no longer need fine tuning, because they correct themselves in-cycle and consume only the energy that is strictly necessary. But we do not supply only high-quality, innovative products." MF
Industry-Related Terms:
Bed
,
Bending
,
Center
,
CNC
,
Forming
,
Functionality
,
Hydraulic Press
,
LASER
,
Model
,
Ram
,
Run
View Glossary of Metalforming Terms
Technologies: Bending, Cutting, Management