Pavilion Highlights: Smart Tooling, Advanced Wire-EDM
Among new technology you'll experience at IMTS: smart tooling, on display in the Tooling & Workholding Pavilion, in the West Building at McCormick Place.
"For every machine innovation, you'll find a corresponding tooling and workholding technology advance at IMTS 2016," says Jack Burley, vice president, sales and engineering, Big Kaiser Precision Tooling Inc., in an IMTS press release. "For example, this year you'll see the introduction of smart tooling that uses Bluetooth technology. Everyone has a smart phone on their hip, so why not develop apps that enable supervisors to wirelessly check tooling status and operators to download installation instructions and parameter settings?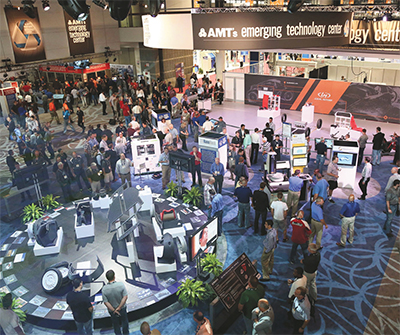 IMTS is held every even-numbered year in Chicago and attracts more than 114,000 attendees from more than 112 countries. They'll peruse dozens of aisles lined with exhibitors to take a look at the show's vast collection of machine tools, controls, computers, software, components and systems.

"The newest digital technology enables moving a boring tool in increments of 0.000050 in.…we can digitally capture and communicate the history of adjusting that tool," adds Burley.

With spindle speeds double what they were 10 years ago (now 20,000+ rpm), look for more tool-holding technologies that are stronger, more rigid and capable of running at higher speeds without unwanted vibration. The real speed issue, however, relates to tooling and workholding that reduces set-up and cycle time.

On the EDM front, there's plenty of new technology advances to catch up on at IMTS. "If you think of EDM as a mature technology, think again," says Peter R. Eelman, vice president—exhibitions & business Development at AMT—The Association For Manufacturing Technology. "We're especially gratified to see the incorporation of the MTConnect communications protocol in EDM machines being demonstrated at the show."

Visitors to EDM displays at IMTS also will learn how, by placing advanced temperature sensors in the casting, the dielectric and the work zone and connecting them to CNC controls, today's EDM machines can maintain casting temperature and eliminate the variables related to thermal expansion or contraction, allowing them to cut with greater accuracy and repeatability.

Other advances include machines that automatically switch from one wire diameter to another—use a larger diameter wire for coarse cuts, then switch to a thinner wire for finer cuts, without operator intervention. In addition, some wire-EDM machines feature vision systems that capture and compare the shape of a EDM-cut contour with a 3D model of the part. Any deviation from the desired dimensions is automatically adjusted for on the next part.

On the robotics front, manufacturers are leveraging gains made in force sensing and control that allow robots to work more collaboratively. Such technology will star in the Industrial Automation North America show. Says Steve Somes, president, Force Robots, in yet another IMTS press release in advance of the show: "Responding to external forces not only makes robots safer for collaboration, it also enables more tasks like assembly, grinding and deburring."

Adds Matt Prellwitz, drive technology application specialist, Beckhoff Automation: "The Windows operating system (OS) on newer PC-based controllers also can receive its own core. That means all machine and robot control functionality can run independently of the OS, which helps elevate performance and pushes kinematic applications to an exciting new level."

Register Early to Save

Through August 12, individual registration is $45 per person; group registration (five or more) is $30 per person. Beginning August 13, registration increases to $65 for an individual and $45 for each group member.

"Discounts for groups are offered to encourage companies to send their manufacturing teams," says Eelman. "Company groups gain a broader perspective by gathering ideas from varying viewpoints—engineers, machinists, managers, executives—to shape the future of the technology in their factory."

Learn more and register to attend at www.imts.com. MF

Technologies: Management, Training, Bending