Servo-electric press brakes are fast, accurate and nonhydraulic bending solutions. They're versatile yet deliver reduced power consumption and require less maintenance than do hydraulic brakes.
"For almost a solid year we ran the eP-1030 two shifts per day, 10 hr./shift, five days per week," says Buckles. "We needed more capacity, so in December 2013 we installed a second eP-1030."
Ease of Programming
Buckles is impressed with the press brakes' ease of programming. The eP-series utilizes a Windows-based control that includes two separate processors, one for real-time operations and one for bending-application tasks.
"The eP-1030 lends itself to very easy operation," explains Buckles. "We were able to train one of our lead operators in our powder-coating department who had an interest in learning to operate the press brakes. In fact, we cross-train a lot of our people."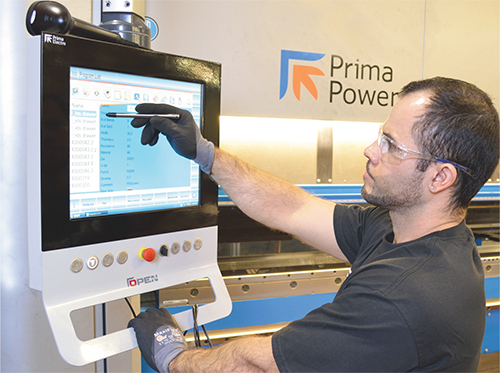 At the press-brake control, operators download bending programs and pull up matching part numbers, which gives them the setup sheets—no need to figure out tool lengths, what tools to use or the bend sequence. That process, combined with quick-change tooling and a hydraulic top clamp for the press brakes, has enabled Champion to reduce setup times from 20-30 min. to just 5 min.

Included AutoPOL offline-programming software allows programmers to perform bending simulations, shortening setup times and ensuring that bending tasks can be performed. Programmers can develop 3D models with AutoPOL, or models can be imported in 2D and 3D from a separate CAD program. AutoPOL's bend-allowance algorithm accounts for bending tools to obtain correct radii and also calculate accurate unfolding dimensions.

"We download the bending program to the press brake, the operator will scan it and pull up the part number, and that gives them the setup sheet," says Buckles. "The operator does not need to figure out tool lengths, what tools to use or the bend sequence—all of that occurs offline. When we pull programs from the server to the machine, it's extremely quick."

Buckles also invested in quick-change tooling and a hydraulic top clamp for the press brakes. "Altogether, the software and tooling have allowed us to reduce our setup times from 20 to 30 min. to just 5 min.," he says.

Speedy Workhorses

Champion processes 150,000 lb. of material each month, and nearly all of it routes through the Prima Power press brakes. Buckles also notes that the speed and flexibility of the new press brakes play a vital role in supporting the firm's growth.

"The stroke length is huge for us because we form a lot of parts that are too deep for our traditional hydraulic brake," Buckles says. "And the extra bed length (10 ft., compared to the 8-ft. hydraulic brake) also is important, allowing us to bend some parts in three of four stages in one part handling. That can save a lot of time, increasing productivity and profitability."

Quality also has improved, due to eased setup and the repeatability provided by the new brake. "We no longer have to make setup parts," says Buckles. "We produce only the blanks that we need (from the firm's punching and laser equipment), and when it comes to forming, every part is a good part. So the days of making setup parts are gone.

"The tolerances that the press brakes hold is incredible," he continues. "We can bank on it every time. If we have to go down to ±0.005 in., we can easily do it. And it doesn't take five or 10 parts to achieve this—we just need one part." MF

Article provided by Prima Power North America, Arlington Heights, IL;

www.prima-na.com

.

Industry-Related Terms: Bending

,

CAD

,

CNC

,

Form

,

Forming

,

LASER

,

Model

,

Point

,

Stroke

,

Download

,

BedView Glossary of Metalforming Terms

See also: Prima Power North America, Inc.

Technologies: Bending

Cutting
MC Machinery Launches Podcast Series—"Minds on Manufacturing...
Monday, December 28, 2020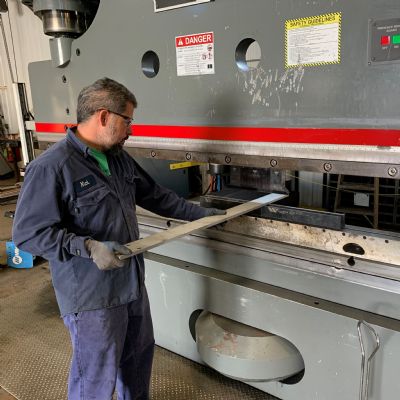 Bending
Press Brake's Big Bends Ease Custom-Fab Work
Lou Kren
Tuesday, September 29, 2020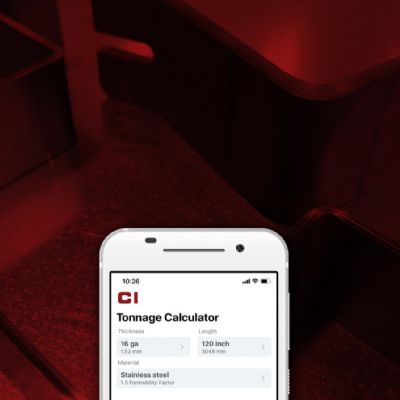 Bending
Load-Calculator App Compatible with All Press Brakes
Wednesday, September 2, 2020