Robotic Bending Cell Features Adaptive Bending
March 10, 2020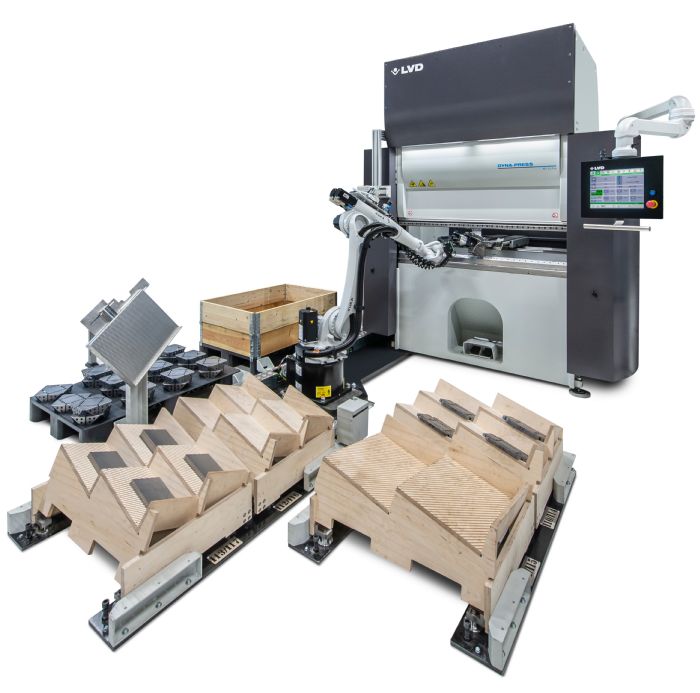 At FABTECH 2019, LVD Strippit demonstrated its compact Dyna-Cell robotic bending cell, with a footprint of 16 by 16 ft. and now available with the Easy-Form Laser in-process adaptive-bending system, which ensures the desired angle from the first bending operation, according to company officials. Dyna-Cell also features intelligent automatic programming. These features advance Dyna-Cell's capacity to automate the bending of small- to medium-sized parts in varying batch sizes at bending speeds to 1 in./sec.
The company's 10-10 rule delivers on the promise of a fast art-to-part process, with 10 min. needed for CAM generation of the bending and robot program, and 10 min. for setup and first-part production. CAM-program preparation of the press brake and robot is handled completely offline. This eliminates considerable setup time and ensures rapid production times, even for small batches.
After importing the 3D drawing, the software automatically generates the bending and robotics program. The software calculates a complete collision-free path through all positions, as well providing simple programming of standard product families, such as multi flange, brackets and profiles. The software automatically generates the press brake bending program and the robot's movement, directing it from one bend to the next to form the part and then to offload or stack the part.
See also: LVD North America
Technologies: Bending, Pressroom Automation