Rapid, Precise Press Brake Bending
April 27, 2020
At FABTECH 2019, Trumpf highlighted the TruBend 7050 press brake, newly added to the company's Series 7000 line. The machine bends with an increased press force of 55 tons and has a bending length of 60 in. The machine also is equipped with a new system control and ergonomic features. A six-axis backgauge helps the operator precisely position components. The gauge fingers move quickly, traveling 60 in./sec. along the X axis and 87 in./sec. along the Z axis. This new generation of TruBend Series 7000 machines comes with the company's ACB Wireless angle-measuring system. Small metal contact plates at the bottom of the sensor tools send a signal to the machine when they touch the sheet metal. The TruBend Series 7000 machines use these signals to calculate bending angles.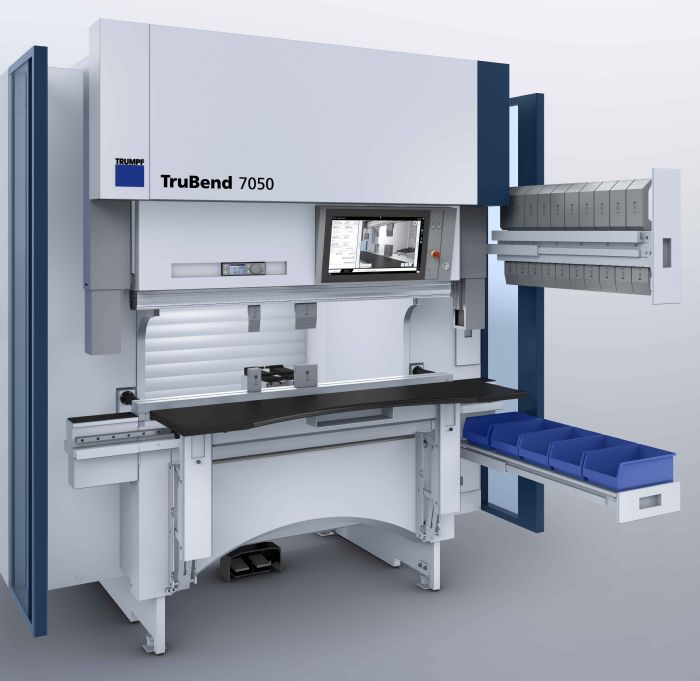 Ergonomic features include a new control panel that simplifies programming on the shop floor. Streamlined views present just the essentials so that users quickly can find the right screen for entering data, according to company officials. The operator does not need a mouse or keyboard to use the controller's touchpad and can operate with work gloves on. The machine may be fitted with another screen alongside the existing control on the press beam, for example, to display part diagrams. Another simple option for sending simple commands to the machine: the MobileControl module. This remote-control unit may mount on a special rail above the tools. Additionally, a stool, a table to support the arms, a shelf for documents and a footrest keep the operator comfortable while minimizing fatigue.
For convenient tool handling, an LED strip on the upper tool clamp indicates where the operator must set up tools and, while forming, where the next bend will be. The TruBend 7050 also features pull-out tool-storage drawers within arm's reach of operation. As much as 50 ft. of bending tools slide out on telescopic rails, making them easily accessible for operators, and a nearby shelf enables ergonomic part staging and stacking.
Finally, like all Series 7000 models, the 7050 has an optimized footprint, 140 by 70 in., and can be hauled by forklift. A roller gate for servicing and maintaining the machine is another space-saving feature.
See also: TRUMPF Inc.
Technologies: Bending