Press-Brake Trio Covers a Range of Applications
November 1, 2010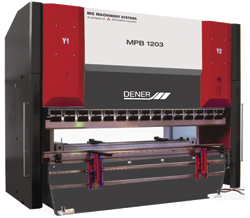 MC Machinery Systems, Inc., Wood Dale, IL, introduces three new machines in the Dener press-brake lineup. The line offers a machine for every sheetmetal-fabrication shop need, covering the tonnage range of 40 to 2000 tons and offering three- to more than 11-axis capability.
The Smart model is an entry-level three-axis CNC press brake with an optional fourth axis, and offers advanced proportional valve control that synchronizes its hydraulic cylinders for optimum parallelism. The brake also offers automatic tonnage and stroke adjustment.
The Puma model comes standard with four axes with the option for additional axes, and brings a more sophisticated 2D color, 15-in. touch-screen control. It also adds more ram and backgauge speed to increase production efficiency.
Finally, the Tiger press brake model comes loaded with six standard axes, CNC crowning, linear-guided front sheet supports, 15-in. stroke and 200 mm/sec. ram speed.
MC Machinery Systems, Inc: 630/616-5920; www.mitsubishi-world.com
See also: MC Machinery Systems
Technologies: Bending