New Line of Press-Brake and Punch Press Tooling, Laser Consumables
October 1, 2014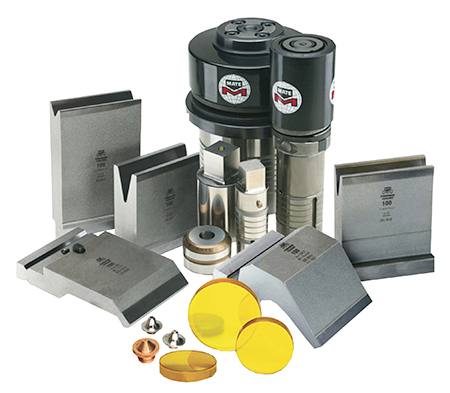 Mate Precision Tooling
Booth B3301
Mate will exhibit its new European and Wila Trumpf-style press-brake tooling, which includes a full array of punches, dies and specials available in segmented, full-length and half-length sizes. Wear surfaces of the punches and dies are induction hardened for durability.
Also on display: Mate's new Versadie insert slitting die that takes clamp clearing to a new level. It reduces material cost and waste for slitting operations by punching closely to the clamps, crucial when maximum sheet usage is required. The die also allows users to replace inserts without replacing the entire slitting die.
Booth visitors also can meet with Mate's sales engineers to discuss support for forming applications and special-shape tooling for forming card guides, embosses, thread forms and hinges.
And, last but not least, check out the firm's Peak, Black Magic and Performax CO2-laser lenses, and fiber-laser lenses, nozzles and mirrors. www.mate.com
See also: Mate Precision Tooling
Technologies: Bending, CNC Punching