Press-Brake Bending—Methods and Challenges
August 1, 2008
A reproducible and reliable press-brake process relies on the combination of the press brake and its tools. A press brake consists of two robust C frames forming the sides of the machine, connected on the bottom by a massive table and on the top by a moveable upper beam, though the opposite configuration is possible. The bottom tool rests on the table while the top tool attaches to the upper beam. With hydraulic press brakes—the majority of machines produced these days—the upper beam moves via two synchronized hydraulic cylinders attached to the C frames.
Characteristics that define press-brake capabilities include pressure or tonnage, working length, distance to the backgauge, work height and stroke. The speed at which the upper beam operates usually ranges from 1 to 15 mm/sec.
Increasingly, press brakes feature multi-axis computer-controlled backgauges, and, to make adjustments during the bending process, mechanical and optical sensors. These sensors measure bending angle during the bend cycle and transmit data real-time to machine controls, which in turn adjust process parameters.
Ultimately, press-brake bending is a combination involving the geometry of the top tool (with the punch angle and punch-tip radius the most important parameters), the geometry of the bottom tool (the width of the V opening, the V angle and the bending radii of the V opening in particular), and the pressing force and speed of the press brake.
Types of Bending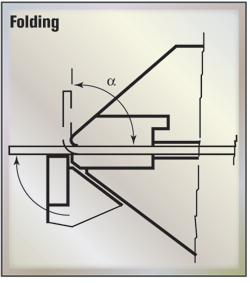 Fig. 1
Folding—
When folding, the longest leg of the sheet clamps between clamping beams, then the bend beam rises and folds the extending sheet part around a bend profile (Fig. 1). In today's bending machines, the bend beam can form upward and downward, a significant advantage when creating complex parts with positive and negative bend angles. The resulting bend angle is determined by the folding angle of the bending beam, tool geometry and material properties. Bending via folding offers a significant advantage in that large sheets can be handled relatively easily, making this technique simple to automate. Also, with folding, the risk of damage to the sheetmetal surface is minimal. One limiting factor of folding: The movement of the bend beam requires the necessary space and throughput time.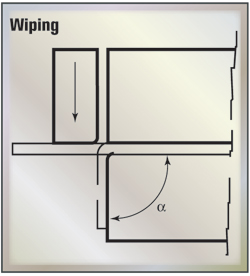 Fig. 2
Wiping—When wiping, the sheet again clamps between the clamping beams, after which the tool bends the protruding part of the sheet around the bend profile by moving up and down (Fig. 2). Wiping, though faster than folding, increases the risk of scratches or other damage to the sheet as the tool moves over the sheet surface. This is especially true if bending involves sharp angles. This technique finds use for making panel-type products with small profiled edges. Using special tools, wiping can be readily accomplished on press brakes.