New Titanium and Stainless-Steel Alloys for Additive Manufacturing
September 1, 2014
Germany-based EOS, a provider of additive-manufacturing equipment and materials with U.S. headquarters in Novi, MI, has developed two new materials for additive manufacturing with metals (laser sintering): EOS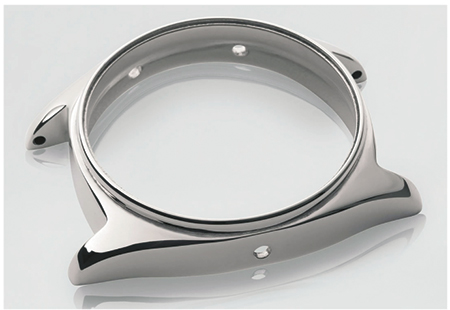 Titanium Ti64ELI and EOS StainlessSteel 316L. Says Christiane Krempl, product marketing manager, metals: "A broader variety of titanium and stainless-steel materials mirrors the ever-changing requirements among our customers and opens up new fields of application." Both materials are corrosion resistant and biocompatible.
Parts built in EOS Titanium Ti64ELI have a chemical composition and mechanical properties corresponding to ASTM F136. Among its targeted applications is additive manufacturing of medical implants.
Parts built from EOS StainlessSteel 316L have a chemical composition corresponding to ASTM F138. In the medical industry, this alloy finds use in surgical instruments, endoscopic surgery, orthopedics and implants. The material also is a good choice for use in the watch (see the accompanying photo of a watch case) and jewelry industries, where the designer benefits from extensive freedom of design. And in the aerospace industry, EOS StainlessSteel is a good choice for the manufacture of clamping elements or heat exchangers.
EOS of North America, Inc.: 248/306-0143;
www.eos.info/en
See also: EOS of North America, Inc.
Technologies: Additive Manufacturing