Materials for 3D Printed Tooling, Jigs and Fixtures
December 27, 2019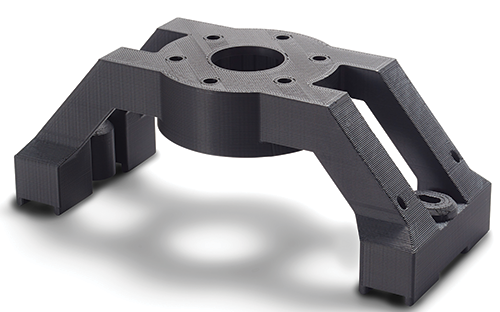 Stratasys unveiled several new durable, temperature- and chemical-resistant FDM thermoplastics, with the aim to aid engineers and designers in delivering production-grade, custom 3D printed tooling and parts. Materials introduced include Antero 840CN03 for the Stratasys Fortus F900 3D printer, and Diran 410MF07 (pictured) and ABS-ESD7 for the Stratasys F370 3D printer. Each of these thermoplastics are well-suited to handle the requirements of manufacturing applications in industries such as automotive and aerospace to engineer advanced 3D printed jigs and fixtures, tooling, prototypes and production parts, according to company officials. They provide viable alternatives to traditionally built tools, jigs and fixtures, which may be more costly to produce and necessitate longer lead times.

Developed for the F900 3D printer, Antero 840CN03 is the second PEKK-based polymer now offered by Stratasys in its Antero portfolio. The new material enables creation of customized tooling and parts with consistent electrostatic discharge performance, and reportedly is ideal for printing high temperature- and chemical-resistant tooling and parts with ultra-low outgassing and exceptional wear properties.

Built for durable-tooling applications, Diran nylon-based material is a FDM thermoplastic that reportedly delivers toughness combined with resistance to hydrocarbon-based chemicals and a smooth surface to offer low sliding resistance.

The ABS-ESD7 thermoplastic is built for static-sensitive applications to prevent discharge or attraction to other materials such as powders, dust and fine particles. Users can capitalize on prototyping and production requirements for low-cost and customizable parts. Use ABS-ESD7 for manufacturing tooling applications.
See also: Stratasys, Inc.
Technologies: Additive Manufacturing, Pressroom Automation, Tooling