Wire-Arc AM From Optimized Design Yields Lightweight Robot Arm
August 7, 2020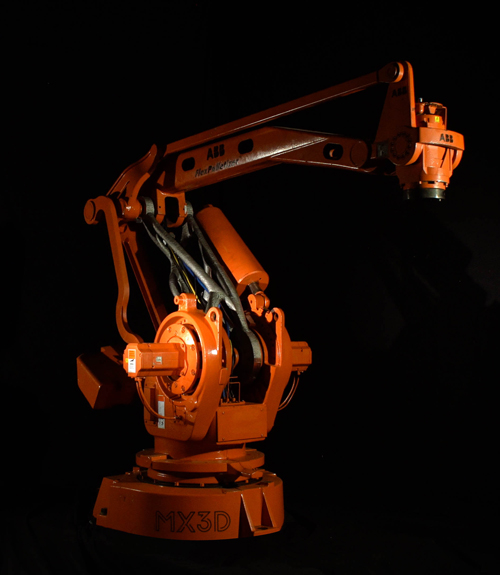 Metal 3D printing company MX3D successfully installed its optimized stainless-steel industrial robot arm, designed by engineers of Altair, 3D printed via wire-arc additive manufacturing (AM) by MX3D and serving as a replacement part for an ABB robot. MX3D completed the build in 4 days, yielding a 73-kg part, as compared to the arm's original weight of 150 kg.
The goal of this joint project: enable the manufacturing of customized replacement parts. This allows for rapid and automated production of large-scale parts that normally require extensive tooling and overseas production, causing long lead times and limited customization options.
The 50-percent weight reduction of the arm showcased the capability of optimization, while the combination of near-net-shape metal printing and conventional machining highlighted the rapid lead time and flexibility of wire-arc AM within heavy industry. All of this provides equipment manufacturers and sellers with the ability to manufacture spare parts inhouse, without the need of external casting and milling work, note MX3D officials.
The arm was redesigned by Altair via generative-design customization to generate the most efficient shape and operational performance of the robot arm. It was optimized for handling improvements (lower kinetic energy), higher precision and increased build rates through Altair's Digital Twin Design process, which included performance-requirement identification via kinematic motion simulation of assemblies. Generative design was applied to create new designs with geometric efficiencies derived from the topology optimization, which were then compared and validated according to performance and manufacturing feasibility.