Following Veranese, Patrick Gannon, additive segment leader, EP industrial solutions, at ABB, will provide a talk on the role of power protection for metal-additive processes, and how to configure a power solution with an uninterruptible power supply (UPS). He'll also describe how one manufacturing facility is using its UPS installations to optimize AM-build quality and avoid production delays.
After a brief lunch break, activities resume with a talk from Enerpac manufacturing technology manager Michael Rosplock, who'll detail his approach to making the business case for metal AM at Enerpac.
"Oftentimes, technical experts in 3D printing find success demonstrating feasibility in the lab," Rosplock explains, "but struggle to organize a business plan to bring the technology to the production floor. This presentation condenses the learnings from my journey writing $1M+ business cases for various additive technologies at Enerpac so that others can do the same within their organizations."
Of course, a big part of demonstrating AM feasibility for specific parts lies in understanding how to design for AM—exactly the subject of the talk following Rosplock's. Provided by Dr. Tim Simpson, the Paul Morrow Professor of Engineering Design and Manufacturing, and director of the AM and design graduate program at Penn State University, Dr. Simpson is an expert in design for AM, and will offer a bevy of practical and useful guidance on the subject, to close out the day's agenda.
Environmental Impacts of Metal Additive Manufacturing
Day two of the webinar series, Thursday, June 24, kicks off at 9:30 a.m. with a presentation on the environmental impacts of metal AM. Presented by Sherry Handel, executive director of the Additive Manufacturer Green Trade Association (AMGTA), Handel will discuss how manufacturers can plan responsible strategies for AM in a world increasingly affected by climate change and resource scarcity. She'll also describe the research she believes still is needed to ensure a sustainable future for metal AM.
"AMGTA recently published its first commissioned university research project, a literature-based systematic review of the environmental benefits of metal AM," Handel explains. "The paper, titled, 'State of Knowledge on the Environmental Impacts of Metal Additive Manufacturing,' written by Dr. Jeremy Faludi from Delft University of Technology and Corrie Van Sice from Dartmouth College, synthesizes existing academic literature comparing the environmental impacts of metal AM with conventional manufacturing methods. It provides context with impacts of common metals and processing methods found in a materials database. Its goal is to summarize current knowledge and identify areas where information is sparse, unclear and much needed.
"What we found," she continues, "unsurprisingly, is there is not enough good research out there to fully capture all of the aspects of AM as it relates to sustainability. Especially not enough research to compare the impact of an additively designed part—one that has been optimized through the virtues of AM—with a similar component manufactured using traditional methods."
In her presentation, Handel will review the life-cycle stages of a part, from raw material extraction to manufacturing, use and end of life. Toward the end of the presentation, she'll outline next steps—both to improve our knowledge on how to make AM more sustainable, and to apply the lessons we already know, to green the industry.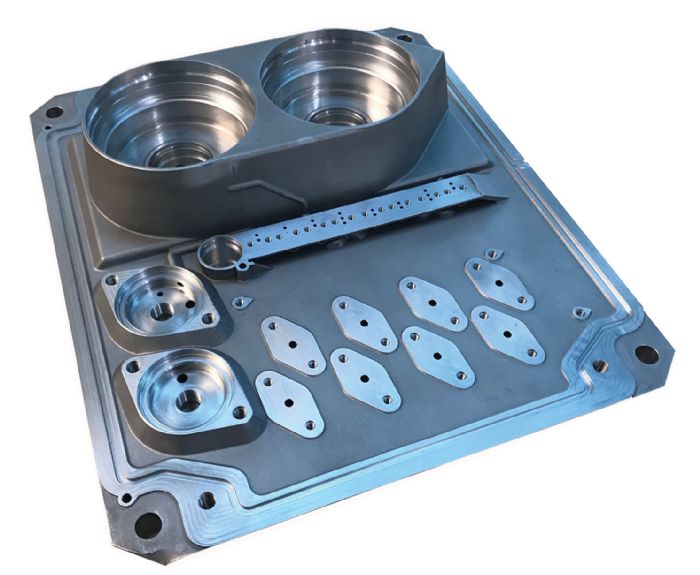 Following Handel is Brett Heher, lead mechanical engineer with locomotive-manufacturer Wabtec, to provide an update on its application of metal AM technology. Wabtec executives call AM one of the technology pillars for the company, with plans to use AM in the production of more than 25,000 parts by 2025. Heher will describe one of the most significant applications of metal AM to date at Wabtec, safety-critical pneumatic brake panels for transit vehicles.
"These systems are fraught with complex parts that lend themselves to AM," Heher notes. "And, lightweighting is important on the transit side. We've been actively redesigning the brake panels to optimize weight and space while also improving air flow through the system. Printing parts, from AlSi10Mg, has resulted in a 75-percent weight reduction compared to the conventional fabrication process—stacking and milling aluminum plates."
Panel Discussion: Working with Service Bureaus
Following a brief lunch break, the webinar agenda continues with a presentation on increasing the industrialization of metal laser powder-bed fusion. The speaker: Francisco Medina, associate professor of mechanical engineering and director of technology and engagement at the W.M. Keck Center for 3D Innovation, University of Texas at El Paso.
Following Medina's talk, we'll convene a panel discussion on a topic of growing importance: Working with service bureaus, moderated by Cullen Hilkene, CEO of 2Diligent Corp. Joining Cullen on the panel, to field his questions and those from the audience, are an array of AM industry leaders from OEMs and service AM service bureaus. Join us, and bring your questions and concerns for the panel to discuss!
Last but not least—the virtual tour of Neighborhood 91. Attendees will enjoy an overview of the campus, hear about its core objectives and the issues it seeks to solve for the AM supply chain. And, we'll hear about the campus's first tenant: Wabtec, which recently has taken delivery of an SLM 800 metal AM machine. Included: a video of the machine in action, printing parts. MF
Technologies: Additive Manufacturing, Management