Software, 3D Printing Deliver Suspension Lightweighting for Eco-Friendly Vehicle
April 24, 2020
XponentialWorks is teaming with Arcimoto, Inc. to design and fabricate lightweighted components for Arcimoto's Fun Utility Vehicle (FUV), with the goal of reducing cost, improving performance and efficiency, and making the vehicle more environmentally friendly.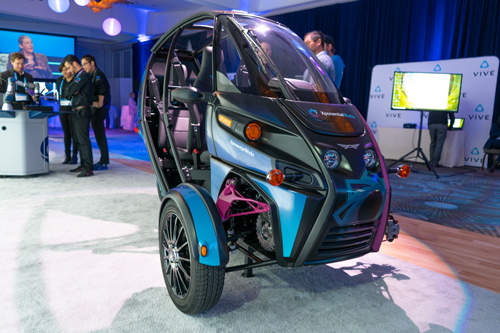 If successful, the new parts, designed via XponentialWorks' Paramatters CogniCAD computer-generated design and reverse-engineering software, may take the place of heavier, regularly manufactured parts. This will allow Arcimoto's electric vehicles to drive farther on a single charge, improve acceleration, and deliver better handling―all while reducing part-production costs.
The project team used Paramatters software to redesign and fabricate new parts with geometries that mimic natural structure, according to XponentialWorks officials, and promises significant savings in part weight. Lightweighted parts include: a rear swing arm with weight reduced by 34 percent; knuckle, lightweighted by as much as 36 percent; upper control arm, with weight reduced by as much as 52 percent; and brake pedal, lightweighted by as much as 49 percent.
"The entire redesign, from concept to parts, took only four weeks," says XponentialWorks founder Avi Reichental, "further demonstrating how 3D printing technology is completely changing how we design and manufacture products."