SLM Solutions Debuts 12-Laser AM Machine
November 10, 2020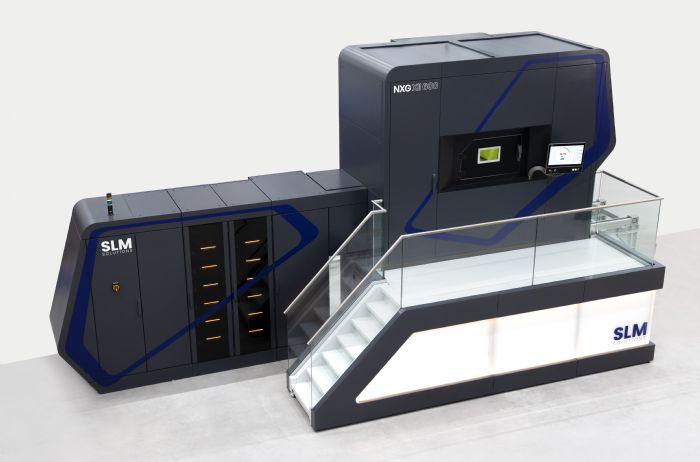 At Formnext 2020, SLM Solutions has unveiled its NXG XII 600 powder-bed additive manufacturing (AM) system, featuring an industry-first 12 1000-W lasers and designed for high-volume, serial production. The new machine, available now for commercial orders, reportedly produces at speeds 20 times faster than standard single-laser systems and five times faster than a quad-laser unit—printing as much as 1000 cubic cm/hr. when employing its Double Jump Speed feature.
With a large build envelope of 600 by 600 by 600 mm, the machine is capable of producing more than 10,000 kg of parts per year. To further push productivity, the NXG XII 600 boasts a 40-percent reduction in fire-to-fire time, 50-percent reduction in skywriting time, automatic build-cylinder exchange and build start, and external preheating and depowdering stations, offer company officials.
Technology features include new gas-flow-optimized bidirectional recoating, integrated scan-field partitioning for even load distribution between all 12 lasers as part of a compact optic system, and multiple scan and build redundancies on every location in the build area. A tailored laser-focus size, referred to as the Zoom function by SLM Solutions officials, enables spot-size definition via a double-lens system and is integrated into all 12 optics. Contours can be built with 80-µm spot size while in the same layer the hatch area (with hatch distance in this machine increased to as much as 400 µm) can be built with 160-µm spot size.
To aid in build quality, the NXG XII 600 employs state-of-the-art thermal management, according to company officials, including maintaining of constant substrate-plate temperature independent of laser power input. And, reported consistent shielding gas flow over the whole build chamber is made possible through optimal flow in-and outlets, combined with flow-optimized chamber design and metal-sintered wall technology for the chamber. The optimized gas flow enables homogeneous part properties all through the build platform.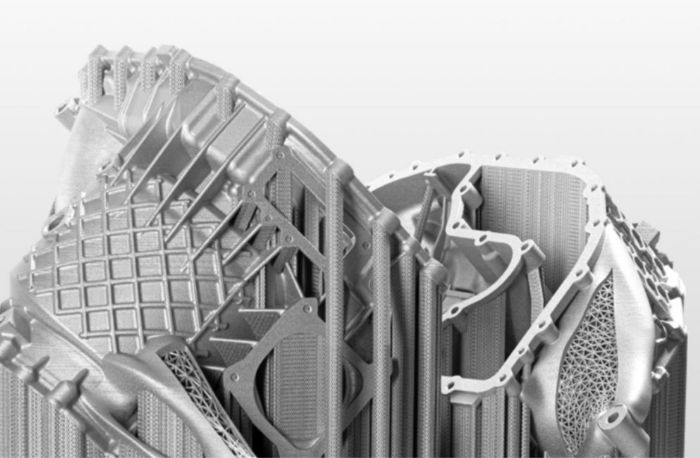 The new machine can process a wide variety of materials, and SLM Solutions officials report the expectation of significant jumps in build-up rates for nickel-based alloys and steels as well as higher aluminum build-up rates. It also offers reduced support needs, with reported reduction or elimination of supports starting at the base plate and extending to a height of nearly 800 mm, short-range overhangs without supports down to an angle of 5 deg., and without supports for long-range overhangs of several centimeters down to an angle of 10 deg.
The machine also features a user-friendly control system that boasts reduces training time for operators and a multi-user account option to ensure tailored workflows.
During product launch during Formnext, SLM officials showcased parts produced on the new machine, including a 590 by 650 by 367-mm engine housing (pictured), using AlSi10Mg material and weighing 15.5 kg. Production time: 21 hr.
See also: SLM Solutions NA, Inc.
Technologies: Additive Manufacturing