Progress Reported on LPBF Project to Validate Automotive Steel, Digitize Process Chain
July 22, 2020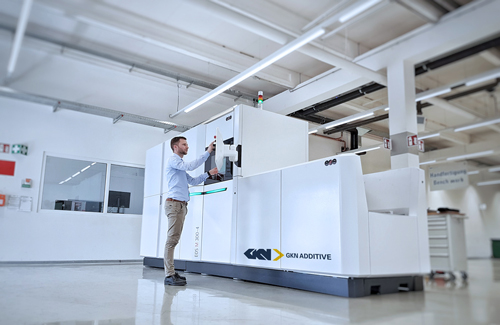 Following creation of a consortium in 2019 to address limitations, including automation and its high associated costs, in laser powder-bed fusion (LPBF) additive manufacturing (AM), progress has been reported. This includes GKN Powder Metallurgy (GKN PM) working to validate use of DP600 automotive steel on a newly acquired EOS M300-4 quad-laser system installed at GKN PM's Bonn, Germany, facility (pictured).
The consortium of 12 partners from across the AM, automotive, research and industrial sectors launched the Industrialization and Digitalization of Additive Manufacturing (IDAM) project to assist LPBF adoption for industrial, serial production in industries such as automotive.
The goal of IDAM includes using the pilot line at GKN PM's factory in Bonn, and another at BMW Group's facility in Munich, to demonstrate a digitalized and IoT-driven production line for 3D printing of automotive components. Using the lines, the IDAM consortium aims to produce more than 10,000 individual and spare parts annually, as well as at least 50,000 mass-produced components. Importantly, the IDAM pilot lines will encompass open architecture that can be adapted for any LPBF system.
Thus far, the gas atomized DP600 material, via the GKN PM-EOS validation process, demonstrates an elongation rate of 13 percent as-built to 22 percent with heat treatment, and a tensile strength of 950 MPa as-built to 700 MPa with heat treatment. These tunable properties make the dual-phase steel a good candidate for several structural automotive applications, as well as for other applications in the industrial market. Further potential to reduce cost per part can be achieved by using water-atomized powders.