New System Delivers Higher-Resolution Printing and a Path to Low-Volume Production
November 1, 2018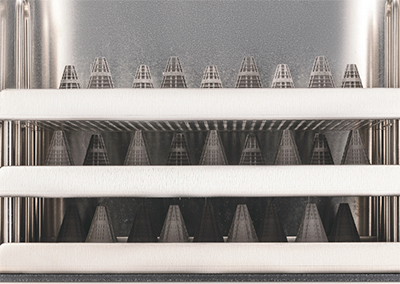 Desktop Metal has introduced the Studio System+, an advanced metal 3D printing system combining all the innovative and office-friendly features of the original Studio System with even more functionality to print small metal parts with higher resolution. The company also announced the introduction of Studio Fleet, a custom-configurable solution designed to address today's challenges in low- to mid-volume production.
Says Ric Fulop, CEO and co-founder of Desktop Metal: "Engineers and designers looking to push the limits of metal 3D printing with small parts, or parts with fine details, now can achieve even higher resolution, with a customizable system configuration for greater process efficiency and throughput right on the shop floor."
Building off the flagship system, the Studio System+ incorporates new print capabilities as well as hardware updates designed for increased throughput. A new swappable high-resolution print head with supporting software profiles allows for printing of smaller parts with finer features and improved surface finish. This creates the ability to print parts similar to those produced with metal injection molding (MIM)—parts featuring sintered voxels as tiny as 240 microns in XY by 45 microns in Z. Users also can watch a live stream of the build, thanks to an in-chamber build-plate camera. And, new stackable shelving (see photo) increases part capacity of the debinder and furnace for even greater throughput.

See also: Desktop Metal, Inc.
Technologies: Additive Manufacturing