"I like to make decisions regarding the company's direction and investments based on opinions from several different people from various areas of the company," Fledderman says. "Every major decision goes through the committee. We discuss and share ideas and come to a group conclusion. If we don't, in those rare cases, then I'll take their opinions into account and make a decision, then ask them to support that decision. We've had very few conflicts."
The BTD executive committee: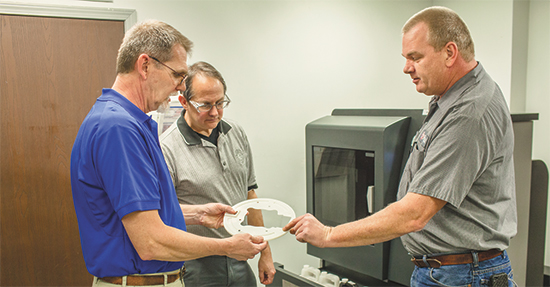 Fledderman is committed to investing in technology, not just to meet today's capacity needs but to prepare his company for the future. He points to this new 3D printer as an example, proving useful for creating prototypes of stamped parts to show to customers. Here, machining manager Toby Walsman (left) shows a 3D-printed prototype of a brake-system backing plate to vice president of quality Jim Wintz (center) and Jay Fledderman, vice president of manufacturing.
• Jay Fledderman, vice president of manufacturing
• Joel Fledderman, vice president of stamping
• Bob Holtel, vice president of tooling
• Lance Green, vice president of materials
• Gene Lambert, vice president of sales
• Jim Wintz, vice president of quality
• Jorge Lopez, vice president of finance
As previously noted, most executive-committee members have moved through the company's ranks having developed one or more technical skills.
"We believe strongly in promoting from within and providing new opportunities for growth," stresses Fledderman, expounding on yet another management strategy that solidifies the company moving forward. As an example, Fledderman points to Lopez, who served as controller in the BTD plant in Mexico before moving to BTD headquarters and being promoted to vice president of finance.
"Promoting from within and then backfilling from up-and-coming middle managers has helped support our growth," Fledderman shares. "We've never lost a key employee other than to retirement or death. People see a future here. In fact, I believe we can make a full transition in the next 10 to 12 years by bringing in very few employees from the outside, except for entry-level workers to fill our needs on the shop floor."
Role of PMA's Management Development Academy
Helping to backfill the firm's management needs, several BTD up-and-comers have attended the PMA Management Development Academy (MDA —www.pma.org/mda). Launched in 2012 by then-PMA Chairman P.J. Thompson, the MDA is a three-part series of forum-style workshops, instructional seminars and structured networking. Content is designed exclusively for middle-management professionals looking to advance their business and leadership acumen.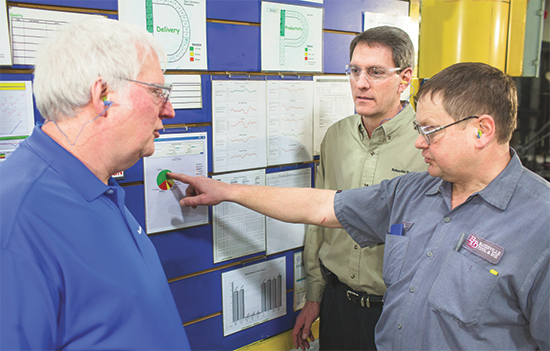 BTD continuous-improvement managers and lean coordinators Terry Giesting (middle) and Jan Holm (left) consult one of the firm's Lean Boards, where production manager Dick Meer reviews the latest downtime reports and other performance-measuring charts. Giesting serves as program chair for the PMA Indiana District.
"We've sent four employees from our U.S. plant to the MDA," says Fledderman, "and three more from our Mexico facility."
PMA's training and development offerings, as well as its networking opportunities, ring throughout BTD and play a critical role in its success. Fledderman explains:
"Since joining PMA (in 1989), I've been hooked. I joined, in fact, after attending a local PMA event at which PMA Chairman Pat Thompson (P.J. Thompson's father) gave a thought-provoking and informative presentation. The networking opportunities, for me and for several of our employees including our executive-team members, provide immeasurable benefits. For example, Gene Lambert belongs to the PMA Sales and Marketing Committee; our human-resources manager (Carla Enzinger) participates in PMA's HR Roundtable and its accompanying listserve; we have various women attend Women in Manufacturing events; and Lance Green and (continuous-improvement manager) Terry Giesting serve on the board of the PMA Indiana District.
"A lot of the decisions made on how and where we invest, in personnel development and in technology investment," Fledderman continues, "are based on the experiences that we draw from those we meet through PMA networking. That includes educational offerings such as MetalForming magazine's two-part webinar series on 3D printing, which helped convince us to invest in a 3D printer; and PMA's webinars on the R & D Tax Credit."
Attracting and Developing the Next-Gen Workforce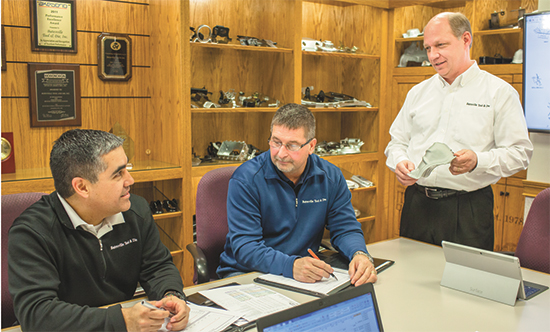 BTD vice president of sales Gene Lambert (standing) discusses a stamped heat shield with Jorge Lopez, vice president of finance (left), and Lance Green, vice president of materials. Lopez served as controller in the BTD plant in Mexico before moving to BTD headquarters in 2012. "Promoting from within and then backfilling from up-and-coming middle managers has helped support our growth," says Fledderman.
While Jody and his brothers represent well the second generation of BTD's growing workforce, it's the next generation that has Fledderman's full attention. Several third-generation workers already work at the company, and others may join down the road. Jody's brother Joel's 16-yr.-old son Brett seems likely to become part of that third-generation workforce. It is Brett's interest in joining BTD, after he graduates from Batesville High School in 2015, that has helped convince Jody to find a to seek and attract high-school graduates to careers in manufacturing —if college doesn't feel like a good fit.
"We've participated in Batesville High School's mentorship program and welcomed several students here to watch and learn about manufacturing," says Fledderman. "But watching is really all that they can do. We've been looking for an opportunity to get kids in here and let them perform more meaningful work, to really experience the business and learn about the career opportunities we can provide."
From Toolmaker to Cultivator of Technology and Talent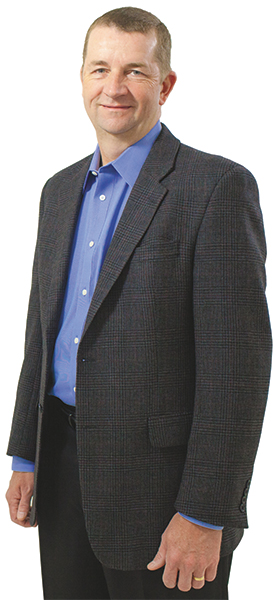 Jody Fledderman's first real impact on the company his father built came when he spearheaded what he says was the second wire-EDM machine installation in the state of Indiana. It was that project at BTD, in the early '80s, that most signifies his belief that technology paves the to continued success in the metalforming industry. There's no better to illustrate how deeply he believes in his chairman's theme of investing in technology and talent, to help ensure a prosperous future.

Cultivating talent can be seen in the innovative s in which Fledderman enriches the lives of employees. Case in point: an onsite health clinic BTD launched in 2007 "as a leap of faith," says Fledderman.

"The clinic, operated by a third party that assumes all of the risks and requires us to maintain the physical space and equipment, has been key in attracting employees and keeping them here," Fledderman explains. "As opposed to our wellness program, which seems to attract the same small core group of employees each year, we have more than 95-percent participation in the health-maintenance plan provided for by the onsite clinic. As a result, not only have our insurance costs become manageable, but employee morale has improved noticeably."

On the technology front, it's easy to see how Fledderman and his executive committee cultivate technology to harvest success.

"Either we save material content or we run faster," says Fledderman. "That's what we have to work with to improve margins. How much can we make in a given time, and how can we minimize material use and costs? So we look to technology to help us develop better blanks and run our equipment faster to increase capacity."

Fledderman's fascination with manufacturing technology began as a teenager, when he got his first dose of the BTD toolroom. After performing primarily menial chores for the company as a youth, once he got a "taste of the CNC machines, I was hooked," Fledderman says. "I found toolmaking contagious."

Fledderman attended college-prep courses in high school, but once he graduated, rather than enroll in a 4-yr. college, he says he felt like it was time to move on.

"I als knew I'd end up working at my father's company," he adds. "That's what I wanted to do, so I started here full time after graduating from high school."

Fledderman also attended night classes and the University of Cincinnati's College of Applied Science, "not working toward a specific degree," he says, "but to fortify the knowledge and skill base needed to work at BTD." He went through the state's journeyman program, earning his tool and die making degree in 1983.

Fledderman's climb up the ladder gained steam in 1985 when he moved from the CNC department into design. Shortly thereafter his father named him vice president of engineering, and then dropped the bomb.

"In 1988 he told my brothers, my sister and I that he and our mom were moving to Florida," says Fledderman. "He laid out the succession plan and appointed me president."

At that time the company's annual revenues averaged $12 million. Today BTD is a $120 million company that includes a significant presence in Mexico. And, Fledderman admits, his role at the company has evolved just as significantly.

"In the beginning I spent hours every day on the shop floor, involved closely with operations. Now my focus is on managing the business and nurturing customers. And, on preparing BTD for the future, by shepherding our investments in technology and on building relationships with Ivy Tech and with our schools, to attract the next generation of workers to manufacturing. That's the best I know to give back to the company, the community and the industry—all of which have been very good to me."
Fledderman's search to provide a more hands-on co-op experience has led to the creation of a new program for Batesville High School students that also encompasses the newly expanded local arm of Ivy Tech Community College. Ivy Tech, with the generous financial support of the Batesville Community School Corp., BTD and other local businesses, moved into a new facility early in 2013 and now "has become a place where parents can be proud to send their kids," says Fledderman. "I believe kids need options other than a 4-yr. college to further their education outside of high school, and the technical programs offered at Ivy Tech fit that bill. Along with their high-school curriculum, our new co-op program becomes the proverbial third leg to the stool to provide support to kids as they look to begin careers in manufacturing."
High-school students participating in the co-op program enter as juniors, having first participated in the school's Project Lead the STEM curricula. They attend classes at Ivy Tech and spend six hours per week working at one of four local manufacturing companies that signed on to participate, including BTD. As juniors and seniors the kids spend time working at each of the four companies; as seniors they are paid interns.
"We and the other participating companies (Bates-ville Casket, Heartwood Mfg. and Virtus Inc.) all committed to teaching these kids meaningful skills," says Fledderman, instrumental in launching the program and developing the curriculum. "To allow that to happen, the school administration had to certify one of its instructors under state guidelines."
That person is math teacher Cathy Martini, who oversees each kids' experiences and ensures that the students receive the opportunities promised. And, she helps to ensure that the businesses get what they're looking for—responsible students who show up on time ready to work and conduct themselves professionally while in the workplace.
"When these kids graduate from high school having participated in this program," Fledderman continues, "they're two semesters a from receiving their associate's degree and on their , should they choose, to launching successful careers in manufacturing. If we can get two or three good kids every year to consider working for BTD, that would be huge for our business.
"The upshot," Fledderman summarizes: "Now we have a hand in attracting and developing our future workforce. That's huge, and it should resonate with other PMA member companies, and the industry overall."
Fledderman quickly shares the credit for launching the new and innovative co-op program with the school corporation and Ivy Tech, as well as his brother Joel and HR director Enzinger, who oversees the activities of the students while working at BTD.
"My role," he adds, "is to help grow the program. We need more companies to step up and participate, so we can bring in more students."
Spreading the Word
Fledderman also seeks to share his message—of taking an active role in attracting the next-gen manufacturing workforce—with the broader metalforming industry, via his time as PMA Chairman.
"We expect to take this co-op program to the state level in Indiana, to see if other school districts are interested in benchmarking our program," he says. "And, I'll work with PMA nationally to help develop a template, conduct webinars and in other s to help guide other companies should they wish to launch a similar program in their community. Such an orientation program from PMA will help companies recruit and develop the talent needed to provide for their future success.
"Workforce recruiting and development, along with showcasing what metalformers can accomplish with new technology such as 3D printing, servo presses and laser scanning, is where PMA will focus," continues Fledderman. "Company owners and managers may not feel they need new technology or talent today, but they soon will.
"We all have to look ahead and plan for the future. I want to change PMA for the better, just as previous board chairmen have done. In the last year or two we've had more participation from member companies than ever before in developing PMA's strategic plan and identifying areas of focus. And I expect that to continue during my tenure." MF
Schools Need Business Leaders to Help Develop Tomorrow's Workforce
Helping Jody Fledderman and other Batesville, IN business leaders create the pipeline for future employees are Batesville High School principal Andy Allen and Batesville Community School Corp. superintendent Dr. Jim Roberts. "The co-op program that is now bearing fruit would be nowhere without the cooperation of Jim Roberts and Andy Allen," says Fledderman. "They pushed for it, on behalf of the kids."
Helping Jody Fledderman and other Batesville, IN business leaders create the pipeline for future employees are Batesville High School principal Andy Allen (right) and Batesville Community School Corp. superintendent Dr. Jim Roberts.

For their part, both Allen and Roberts feel fortunate to be able to learn from business leaders like Fledderman about the types of skills and attributes businesses need, so that they can develop the matching set of educational offerings.

"We view our role as developing talented individuals," says Roberts, "to prepare them to work for the businesses in our community. And, to develop talent that can compete nationally and globally. Our product is the talent we can foster in our students—to think critically, solve problems, collaborate as well as work independently when necessary, and to be resourceful. We're looking to provide practical experiences for our students to prepare them for what's next. This new co-op program that Jody and the other business leaders helped launch is a huge step toward accomplishing that goal."

It's refreshing to hear Roberts and Allen say that not all kids should attend a 4-yr. college. Instead, it's crucial, they both believe, that kids take some time to figure out what they want to do after high school, and then identify the paths that get them there.

"Our mentorship program," says Allen, "houses nearly 100 juniors and seniors from a student body of 730. Its mission, and that of this new co-op program, is to allow kids to identify all of the routes they can take to successful careers, and expose them to those opportunities. We're counting on our local businesses to help. Through this new co-op program, students can see how clean, safe, organized and professional manufacturing companies can be. And well-paying…what a great start to creating a pipeline for future employment in this area."

Allen and Roberts share Fledderman's interest in promoting this important program as an option for other schools throughout Indiana, and nationally. The key: that the kids and their parents, the business leaders and the school administrators all act as partners. The schools need to provide quality kids who have shown an interest in manufacturing and engineering; the kids need to show up on time, be attentive and take direction; and the companies need to provide meaningful opportunities to learn and grow.

Allen's advice to manufacturing companies looking to similarly enlist the help of their schools:

"Assign a liaison at the company to champion the program and foster creativity. At BTD, that person is (HR manager) Carla Enzinger. That champion must focus on what's best for the kids. We know that the world of manufacturing provides opportunities for our kids. Once we all believe that, we can become the voice for that."

Both Allen and Roberts express their praise and appreciation for Fledderman and the role he has played in developing the new co-op program, as well as in finding other s for BTD to give back to the community.

"We congratulate Jody on being selected to serve as PMA Chairman," says Roberts. "He is very worthy of the position, and we know he will succeed. We also know that part of that success will be in helping build a bridge to the next generation of manufacturing workers."

Industry-Related Terms:
Die
,
Case
,
Circle
,
CNC
,
Core
,
Corner
,
LASER
,
Model
,
Plate
,
Point
,
Prototype
,
Run
,
Draw
View Glossary of Metalforming Terms
See also: Precision Metalforming Association, Aida-America Corp., Plex, A Rockwell Automation Company, Romer, 3D Systems
Technologies: Additive Manufacturing, Stamping Presses