Hybrid Process Improved by Using Referencing to Orient Preform with AM Build
July 24, 2020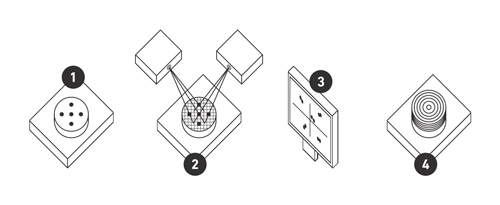 This schematic of a hybrid approach using referencing shows 1. a preform with pre-machined holes on the build plate; 2. laser scanning of the preform and holes with light-reflection detection; 3. automatic x, y and θ orientation correction; and 4. the optimized building of the geometry.
Parts with features demanding large quantities of material, as well as parts necessitating excessive additive manufacturing (AM) build supports, are good candidates for hybrid manufacturing. Manufacturers can efficiently and economically produce such parts by pre-machining a preform and then using AM in areas where the technology proves most beneficial. In addition, printing directly on a section of the final part geometry eliminates the costly cutting operation to remove the part from the build plate.
Consider injection molds, which include high volumes of material. Fully building these parts layer by layer in an AM machine take dozens of hours and requires redesigning, cooling channels and feed systems that would be difficult to remove in subtractive operations.
This type of hybrid process must start with the preform fixed on the build platform before it is referenced, to align the preform and the intended printed section. Referencing can be especially challenging because, unlike in CNC machining, no physical link exists in AM between the optics and the preform. Instead, manufacturers generally must rely on visual alignment or external coordinate measuring machines to confirm positioning accuracy. Both techniques are time-consuming and, in the case of simple visual alignment, prone to operator error. With variance in excess of 100 µm, these techniques also cannot provide the accuracy required for most final applications.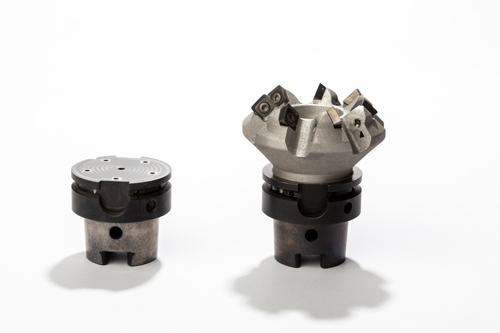 A machined tool holder (left), and with the metal-AM cutting head attached (right), shows how a hybrid process using referencing software can produce components.
To solve the referencing challenge,
GF Machining Solutions
and 3D Systems have developed a software solution that leverages the melt-pool monitoring hardware available on GF Machining Solutions' and 3D Systems' DMP series of metal-AM machines. In machines such as the DMP Flex 350, DMP Monitoring in-process monitoring software acquires melt-pool data during the printing process in order to detect potential defects such as pores, or lack of fusion.
The DMP Calibration Tool function leverages light-sensing melt-pool monitoring hardware for another purpose: scanning preforms to identify pre-machined locating holes in the part's surface. Naturally, a part surface and hole offer much greater contrast than the reflectivity differences used to optimize highly precise metal-AM processes, allowing for an extremely reliable method for establishing the part's precise location, according to GF Machining Solutions officials.